How to Cut Natural Hair
The Natural Haircut Dilemma . . . Curly or Straight?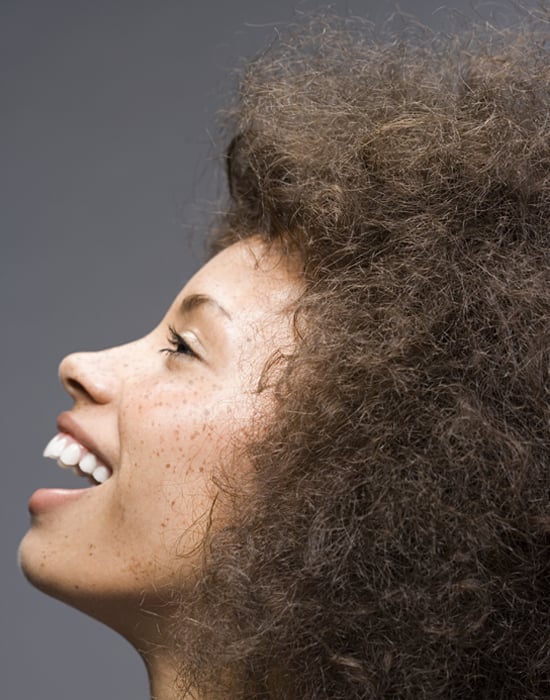 If you have kinky hair, getting the right cut (and stylist) can be complicated. Even though those with tightly curled strands can go longer without a trim (about three to four months opposed to four to six weeks), it's still imperative to take care of fluffy ends to prevent dreadful knots and tangles. But if you have hair in the more coiled variety, should it be cut curly or straight? Decide which method is best for you when you keep reading.
Straight: Cutting hair while blow-dried or flat-ironed straight allows your stylist to easily see the split ends that need to be removed. This method is also ideal if you are looking to try a complex cut like an asymmetrical bob. Your hairstylist can get precise measurements that will translate when your hair is worn curly. Use this method if your texture is more kinky than curly, or if you have natural hair but prefer to wear it straight.
Curly: If you have a distinct curl pattern, opt for a curly cut. This allows every curl to be snipped individually. The stylist should start on dry hair, though. This way you can get the best cut for the way your hair falls naturally. Also, it's best to come to your cut with freshly styled hair (do your twist out the night before), so that every curl can be seen with minimal frizz in the way. Looking for a curly cut master? See the DevaCurl Curly Stylist Finder to find someone near you.
DIY: Don't be afraid to grab the scissors yourself. The next time you twist your natural hair give your ends a "dusting" between trips to the salon. This will ward off single strand knots and major tangles. Just remove the tip of a twist where it is starting to thin out.