How to Define Your Lips
5 Tricks For Getting Perfectly Defined Lips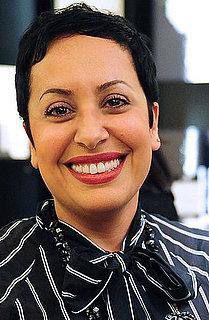 Beautifully defined lips are always fashionable, but right now graphic, retro lips are bigger than ever. Getting good definition can be a challenge, though. That's why we called in an expert. Celebrity makeup artist Angela Levin (who's worked with stars like Jennifer Aniston) has been creating looks for Mad Men's Christina Hendricks lately. And clearly, Angela knows her retro lipstick stuff. So to find out what you can do to get lips that look good and last, just keep reading.
Don't match the liner: When you're trying to do a bright or red lipstick look, don't use a similarly colored liner. Instead, line your lips with a shade just slightly darker than your own lip color, recommends Levin.
Stay sharp: Keep your lip liner sharp, and to get a harder, finer line, pop it in the fridge.
Don't use linear motions: Use soft, circular motions when applying, dotting it on in small sections.
Brush it on: Use a lip brush to smooth out your liner after you've applied. Tip: The more evenly lipstick is applied, the more evenly it will wear.
Wipe the outer corners: By getting rid of a little color on the edges, your lips will appear fuller and more rounded, she explains.