Source: POPSUGAR Photography / Diggy Lloyd
Whatever your hair type, give your strands a break! We've partnered with Infusium to help you focus on hair health.
From constantly using hot tools to regular color processing, we'll be the first to admit that we put our hair through a lot. But who would have thought that all the work we put into making our hair look better could actually be making it worse? Think about it: there's no point in having a sleek and polished 'do if your strands are dry and damaged. To help restore your hair to tip-top shape no matter the texture, we created the ultimate week-long detox challenge that will inspire you to reevaluate your current routine and make thoughtful choices to promote hair health. Tackle these one day at a time, working your way up from simple swaps to effective treatments, and you'll get those good hair days back in no time!

Day 1: Go for high quality tools that don't tug at your hair
You'll be surprised to learn how damaging some of the most basic hair gadgets can be. Start slow and replace your purely functional go-tos with ones that are specifically designed to be gentle on your hair, like a wide tooth comb that detangles without pulling, a brush that evenly distributes your natural oils from roots to ends with no friction, a microfiber towel that won't cause breakage, and ponytail holders that won't snag or tug.

Day 2: Ditch the hot tools
Try leaving your blow dryer, straightener, or curling iron behind — as hard as it may seem — at least for a day. Instead, try air-drying, sleeping with a braid or bun, or rocking your natural texture. This will help mitigate exposure to excessive heat, which can lead to dry, brittle strands and can even permanently alter your hair's natural structure in extreme cases.
If all goes well, consider slowly weaning yourself off the hot tools for a majority of the week, and you'll start to see an improvement in your hair's health.

Day 3: Switch to products that promote healthy hair
Swap out your daily-use products for ones that are formulated to help repair, restore, and restructure strands for healthier looking hair. A shampoo and conditioner duo that contains keratin and argan oil and a leave-in treatment that helps mend split ends and tames flyaways will help you achieve smooth, shiny hair — no heat styling necessary.
Then, treat your hair to a double rinse in the shower, concentrating the lather at the roots. Shampooing twice may seem excessive, but don't underestimate its ability to completely remove excess sebum and strip your hair of product residue buildup. Consider it a much-needed deep clean for your roots.
Day 4: Add coconut oil to the mix
In addition to a leave-in treatment, start using vitamin-rich coconut oil to replenish moisture, boost growth, and diminish thinning. Unlike other oils, coconut oil has been proven to fully penetrate hair shafts, instead of simply coating the surface, to improve strength and elasticity and protect against heat damage.
Day 5: Apply an overnight mask made with natural ingredients
To add an extreme boost of moisture, let a deep-conditioning mask work its magic while you sleep. Not only are they supereasy to DIY using pantry staples like banana and avocados, but you can customize them based on your hair type. The most important thing to remember, however, is to opt for a silk scarf instead of a towel to wrap your hair in once you hit the sheets. A towel will absorb all the moisture out of your hair, while a scarf will help seal it in.
Day 6: Exfoliate your scalp
Don't neglect your scalp! Similar to the rest of your skin, it needs a good exfoliating every once in awhile to remove dead skin cells, impurities, and product buildup. By giving it some love with a scalp treatment, you can nourish your roots, reduce oil production, and boost its natural protective barrier against environmental aggressors.
Day 7: Do an apple cider vinegar clarifying cleanse
End the week strong with an intense but highly effective three-minute apple cider vinegar cleanse. Not only can it act as a clarifying product to break down product accumulation, but it can restore hair to its natural pH level and help seal the cuticle to lock in moisture and prevent further damage in the long run.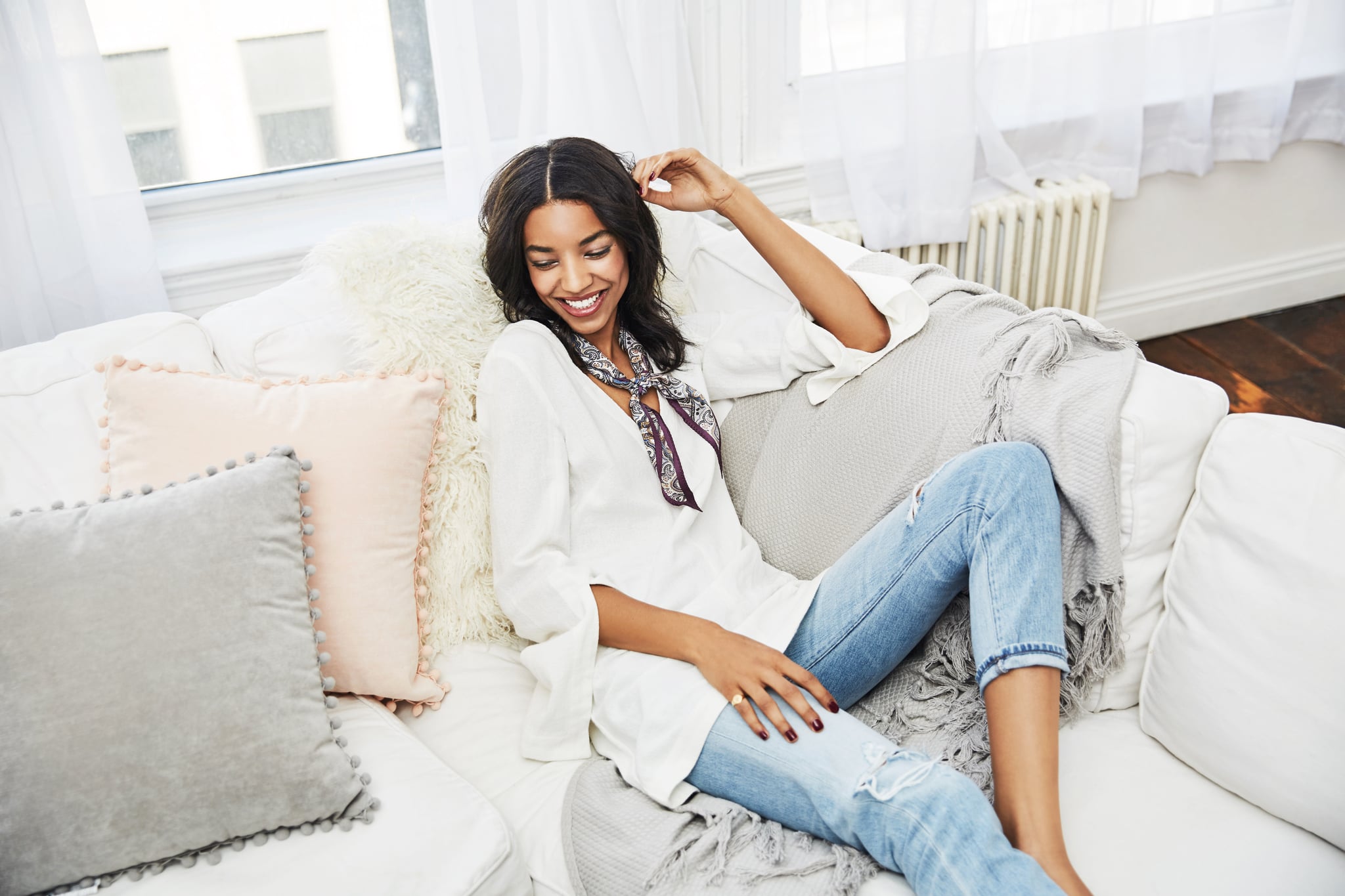 More From Infusium:

Image Source: POPSUGAR Photography / Diggy Lloyd