How to Do a Chignon
Fall 2010 Milan Fashion Week: Prada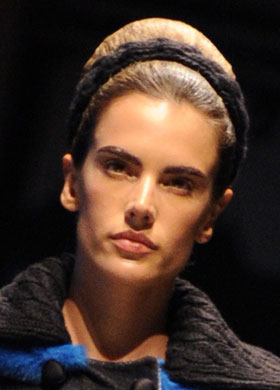 During the 1960s, hairstyles were a true art form. For Prada's Fall 2010 runway show in Milan, stylist Guido Palau brought the essence of the era back to the catwalk, as models walked the runway wearing perfectly coiffured chignons. "The look at Prada was all about classic French hairdressing done with a very chic uptown look with a nod to the '60s — a modern take on a classic, sophisticated look." he said. While it might not be a look you'd go for every day, it's definitely a striking style for a cocktail party or formal event, and we've got the complete how-to at the link below.
Find out how to re-create the look when you read more.
Section the hair into two parts by using a horizontal part at the ear.
Clip the top portion of the hair aside. To create volume, apply Thickening Lotion ($14) to the bottom half of the hair and blow-dry this section. Gather the hair into a ponytail, slide a donut (such as this one) over it, and secure strands around it to cover the donut entirely.
Unclip the top portion and apply Thickening Lotion. Blow-dry and then backcomb to create more texture and volume.
Work Super Strong Gel ($14) into hair. Pull the top section over the donut portion to create a smooth-looking surface. Secure at the nape of neck.
For the final touch, spritz on Super Strength Finishing Spray ($16) for hold and the ultimate lacquered effect.