How to Do a French Manicure With Color
Get Your Nails Ready For Spring With These Bright French Tips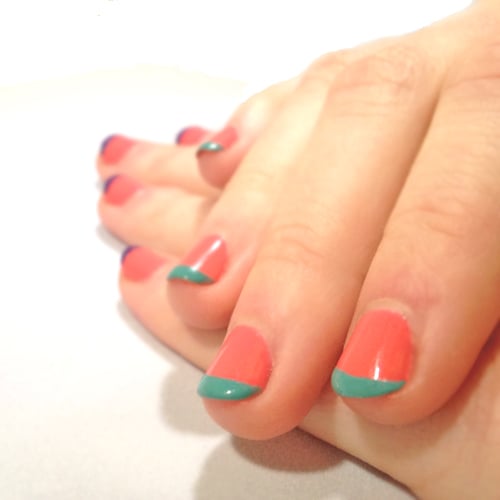 If you're ready to move beyond dark, wintry polish shades, this cheery take on a classic French manicure is a deceptively easy way to freshen up your nails. All you'll need to get the look is three polish shades, topcoat, and some scotch tape. You don't need any painting skills for this one, so to get the look, just keep reading.
Begin by applying a bright pink polish (two coats of OPI Guy Meets Gal-Veston), then layered on Sally Hansen Insta-Dry topcoat. Let the base set for about an hour just to make sure it's completely dry.
Next, it's time for tape and tips. Gently place a strip of tape across each nail, covering the entire nail bed but not the free edge (your "tip"). Then, paint on two coats of teal and lilac polishes; we used MAC Salad Dressed and Ginger + Liz I'm So Over Him. Let the paint dry for about five minutes before slowly peeling off the tape. To keep your manicure from having a ridge at the tip, make sure to seal your nails with one more layer of topcoat. Then you're good to go — simple as that.