How to Do an Inside-Out Ponytail
Take Your Ponytail Up a Few Notches With an Inside-Out Style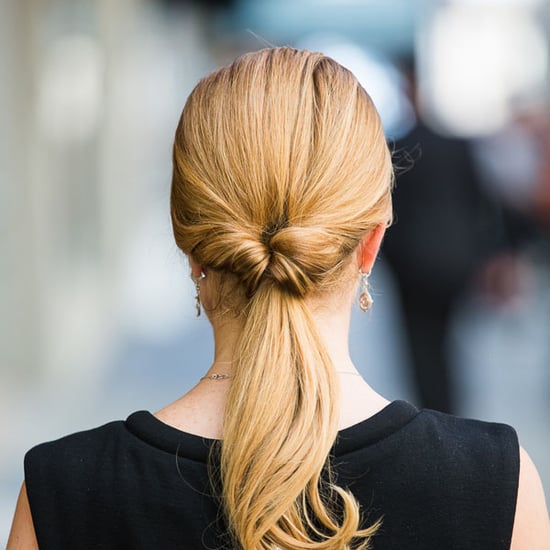 Just as wearing a sweatshirt or t-shirt inside out provides an unexpected twist to your style, so does inverting your ponytail. This flipped-upside-down updo is a classic, and it's a great way to jazz up a sleek, low-slung ponytail during the holiday season. "Setting up the foundation with a good blow-dry makes everything easier," explains stylist Dani Weidner of Robert James Color in San Francisco.
To create a smooth, glossy base, start by running a mousse throughout damp strands, followed by a volumizer at the roots; Weidner recommends Sebastian's Mousse Forte ($17) and Volupte Spray ($20). Once dry, add serum to the hair, and comb through with an ionic brush to lock in shine. Learn what's next — complete with step-by-step instructions — when you read more.
Pony Up
1. After deciding where you want your front part to sit, add a touch of wax to your palms to tame frizz and create grip. Gather the hair back with a comb into a low ponytail (a "more classic silhouette," says Weidner), securing with an elastic.
2. Use your fingers to create a "hole" at the base of the ponytail, directly above the elastic.

Twist and Tuck
3. Now twist the ponytail to make it thin enough to fit over and under the hole you created in step two.
4. Grab the twisted ponytail, and stuff it into the opening, pulling it taut once through.

Finishing Touches
5. Curl ends with two different-sized irons to create flowing waves at the back, or leave straight.
6. Tip: To ensure long-wearing curl, start by curling the hair around the iron closer to the roots, wrapping down toward the ends. Also, once released, try holding the just-formed curl in your hand for a few seconds to promote a more solid wave pattern.

Voilà! The Completed Look