As Eclipse [1] fever heats up, all eyes are on Kristen Stewart [2]. Her hair and makeup choices are as varied as the characters she plays — whether sweet like the lovelorn Bella Swan or bad-ass like Joan Jett, she's always changing her look. Read on to see some of her best looks, and find out how to re-create each, too.
Dynamic Digits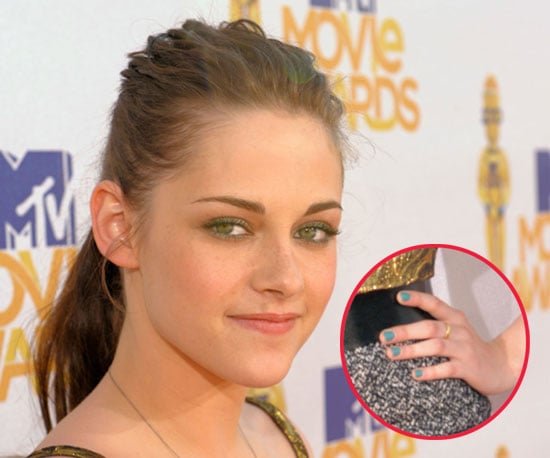 Bright nails, like this vibrant greenish-blue hue that Kristen wore, were all the rage at the 2010 MTV Movie Awards [3]. Try POP Beauty Nail Polish in Grass [4] ($14), a bright green shade perfect for times when temperatures are rising.
Retro Waves
A little styling gel, your fingers, and some strategically placed bobby pins are all you need to re-create Kristen's 2010 Met Gala look [5].
Shiny, Sleek, and Sophisticated
If your hair's feeling a bit tired, dull, and lifeless, follow these tips [6] on how you can bring it back to life by restoring its shine.
Totally Twisted
If a formal event is coming up, might I suggest Kristen's twisted chignon? It's chic, but not stuffy. (Learn how to get this gorgeous updo here. [7])
Classic Bella
Love a no-makeup look? That's exactly what Kristen's makeup artist was going for when she styled her as Bella for Twilight [8]. Find out what products were used on set right here [9].
Match Point
Mint green shadow with orange lips is a definite beauty risk, but Kristen pulled it off. You can pull it off too, and here's how [10].
The Faux Bowl
The bowl haircut [11] has been a popular look as of late, and last year, Kristen helped to revive it. To get the rounded look, check out the complete how-to [12].
Silver Bell-a
Beautiful shimmering eyes have become part of Kristen's signature look, so if you'd like to emulate her go-to style, get her makeup artist's tips [13].
Wild Waves
Kristen keeps us on our toes with her varied hairstyles. This wildly waved hairstyle [14] is easy to do and perfect for a night out on the town.
Pony Up
Wearing a long, thick ponytail is a stylish way to beat the heat. Kristen's stylist, Adir Abergel, filled us in on what he used to achieve the look [15].
In-Between
If you're not into the faux bowl look Kristen wore last year, then perhaps this long pixie is for you. Just blow-dry with a round brush and lift the roots as you go. If your length is medium to long, pin the back to create a faux short style. An asymmetrical part gives it a stylin' finish.
Fun With Fuchsia
Nothing's quite as hot as a fuchsia lipstick, and admittedly, it can be intimidating to pull off. Fret no more. Here are five tips for getting it right. [16]
Punky Pompadour
Not only is this voluminous style trendy, but it's also easy to do [17].
Two-Toned
The best part about two-toned hair [18] is that it will last for months — and you don't need any special products or techniques to get it. Back in 2008, Kristen wore this rusty auburn and deep brown combo to the MTV Music Awards. If you want a similar effect, avoid hard-to-fix mishaps by heading to your stylist for a customized color job.
Modern Mullet
If you're feeling particularly adventurous, then take a cue from Kristen and rock on with this bangin' look [19].