How to Do a Sock Bun and a Standard Bun
Get Jennifer Lopez's Bun Two Different Ways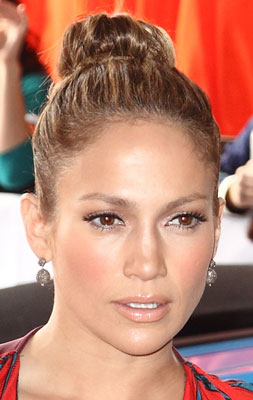 Jennifer Lopez provided lots of shock value donning that skintight sparkly bodysuit during her New Year's Eve performance on Dick Clark's New Year's Rockin' Eve. Yesterday, she dazzled once again — but this time, it was in a more subtle way. At the Miami Dolphins game, Jennifer wore a classic, simple bun to complement her neutral makeup. A bun is a perfect way to dress up any style, and you don't need a license in hairdressing to accomplish this updo. Get my tips on recreating this look two ways when you read more.
For a Cinnamon-Bun Style:
For control and to prevent flyaways, first apply a gel to your hair. Next, gather your locks back into a high-slung ponytail.
Smooth out any bumps by lightly combing through and patting down with a comb.
Twist the ponytail several times and then wrap it around the hair elastic to form a coil shape. Essentially, you want the shape to look like a cinnamon bun. Use two to three hairpins to secure.
Simply spritz with hairspray to hold.
For a Donut-Hole Style:
Make the donut-hole shape by using a sock as your template. (Yes, a sock.) Start by cutting out the toe portion of a thick sock. Now the sock will be open on both ends. Roll the remaining portion into a circular tube. It should resemble a donut shape when you're through.
Gather hair into a ponytail, securing it with an elastic. Now, insert the ponytail through the rolled sock, just as you would do with a scrunchie.
Spread the hair over the edges of the sock, around the donut shape, completely covering the sock.
Secure the donut-shaped bun with another elastic band. Now, wind the remaining hair around the bun, tucking and pinning as you go.
Finish off with hairspray to hold.