How to Do Winged Eyeliner 2010-08-19 08:00:16
5 Tricks For Getting Gorgeous Winged Eyeliner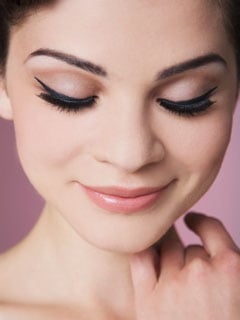 Winged eyeliner is one of those things everyone loves, but many people have trouble doing. So to help you get lovely liner without a million do-overs, enter makeup artist Angela Levin. (She works with stars like Sandra Bullock and Christina Hendricks.) She has five ways to work smarter, not harder, when you're creating your liner look. So to find out how to take the pain out of lining, just keep reading.
The most important things are placement and direction, so take your time.
To get your angle right, Angela suggests you use a pencil to measure the diagonal between the outer corner of your nose and the outer corner of your eye. The slope of the pencil at your outer eye corner will be approximately the right angle for your wings.
If you can get a friend to do your liner, another great trick from Angela is to look lower, toward your nose, because it makes skin drape over your lids in a way that makes for an optimal line.
Create the look in stages, building out from close to your nose.
Use both a pencil and an eye shadow. Angela suggests lash and waterlining with a matte, creamy pencil, and then using water and a thin, angled brush to apply a lighter shadow along the lash line for maximum impact.