How to Dry Curly Hair Fast
Dry Your Curly Hair Faster This Winter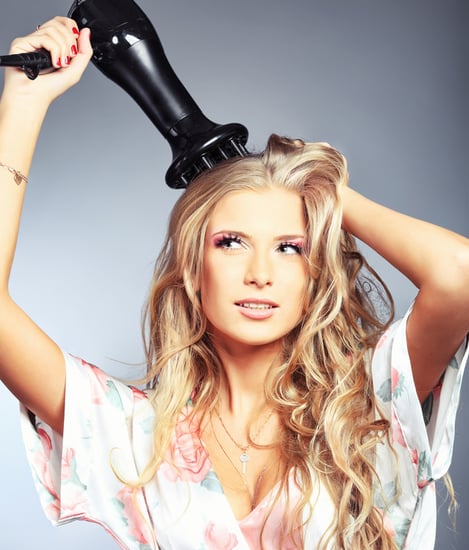 Women with curly hair are known for their devotion to air-drying. But every time you walk out with wet hair in icy weather, you risk freezing your hair among other things. So how do you minimize frizz, avoid heat damage, and dry hair fast? Get multiple solutions depending on your morning time crunch when you keep reading.
If you have . . . 15 minutes: It is nearly impossible to dry curly hair all the way through in such a time squeeze, so your best bet is to prep hair overnight. On damp hair, use bobby pins to set ringlets into flat pin curls. Place a silk scarf over the head to avoid flyaways. Kinkier textures can twist or braid hair to stretch out the curl pattern. In the morning, it will take 15 minutes or less to unravel and go.
If you have . . . 30 minutes: Attaching a diffuser to your blow dryer is the quickest way to dry curls before stepping out into the cold. Resist the urge to blow hot air all over you head, or else you'll end up with a mane rivaling the king of the jungle. Instead, flip your hair upside down and use the diffuser to dry and shape your curls to create volume without frizz. The diffuser is also a great option if you often exercise. Just pack the attachment to add to the provided dryer in the gym locker room.
If you have . . . one hour: If your style depends on a no-touching approach, pull out a hood dryer. Unfortunately this hair accessory takes up a lot of space, but the professional-grade dryer will allow you to minimize frizz because you won't have to touch curls as you dry. One negative to this method is that it can take hours for your hair to fully dry depending on its thickness.