How to Fake a Beauty Mark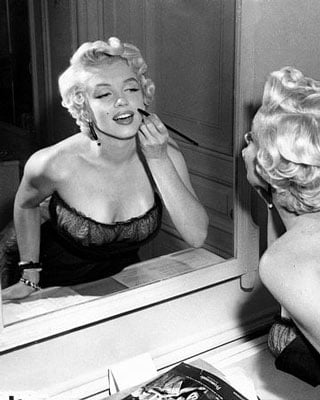 Has any other celebrity been copied as much as the illustrious Marilyn Monroe? Countless women have drawn inspiration from her signature style of bouncy blond waves, red lipstick, and darkly-lined eyes, but it's her distinctive mole that gave Marilyn that extra special touch. Look for a slideshow dedicated to Marilyn's celebrity emulators to come, but in the meantime, I've put together a few tips on how you can get a beauty mark that's uniquely you. Whether you're looking to accentuate a pre-existing mole, looking to do something unexpected, or getting your mole on for a costume party, get my tutorial when you read more.


Consider your coloring: For the most flattering beauty mark, don't stray too far away from your natural coloring. If you're a redhead, for instance, a rusty brown pencil will probably do the trick. If you're a fair-skinned brunette like me, black probably isn't the best option. Look at the undertones and intensity of existing moles and freckles for the best results.
Choosing a formulation: An eyeliner or eyebrow pencil will probably give you the most control, but here are some other options: lipliner, like MAC's Hodgepodge ($13); matte eyeshadow with a wetted eyeliner brush; liquid pot of color with a small stiff brush; or waterproof mascara dotted on with a brush. Whatever you decide, choose a shine-free finish and look for long-wearing, waterproof formulas.
Location: Try placing your mole on the upper or lower lip, on the side of the chin, right above or off to the side of an eyebrow, or on one of the cheeks. If you're not sure, pick a spot that highlights your favorite feature. Whatever you do, avoid going overboard by limiting it to just one mark.
The application: To prevent slippage, first create a base by applying a primer, foundation, or concealer. Next, use small circular motions to draw on your mark. The less perfect the better. Set with a translucent powder.
Other options: There's always the permanent tattoo option, but for completely temporary fix, try Hottiedots Peel and Stick Beauty Marks ($7-20). For a semipermanent alternative, check out the 24-hour Magic Stylo Makeup Pens ($16 each).