How to Fake a Tan With Makeup 2010-04-28 14:00:00
Fake a Tan Like Nicole Richie With Just 5 Products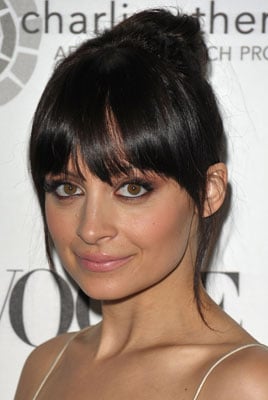 If you're searching for a great springtime makeup look, Nicole Richie's beautiful palette of pink shades, which she wore at a dinner for the Charlize Theron Africa Outreach Project last night in LA, is the perfect way to go. It's a little bit old-school '60s sunbather mixed in with a twist of classic ballerina. Getting a faux glow yourself is easy. All you need are just five products: a multihued face palette, an eyeliner, a lip gloss, foundation, and mascara. Find out how to pull it all together when you keep reading.


To create a similar look, the key is using a multihued palette, consisting of a lighter pink or bone-colored shade, a richly pigmented pink, and a warm rosy-brown, like Aveda's Petal Essence Face Accents in Bronze Glow or Tessarae ($22.50).
After applying your foundation, swirl all of the shades together in your multihued palette, swiping onto all the areas of the face where the sun would hit (the forehead, cheeks, nose, chin, and above the brows). For even more "pop," dip a blush brush into the pink hue and tap the colorful shade onto the apples of the cheeks.
Next, line the eyes with an espresso-toned eyeliner. Using the same face palette, apply the lightest shade as a base on the lids, up past the crease. Mix together the pink and brown shades to create a whole new shade, and tap onto the lids. Blend in a bit of the brown tone onto the crease to bring it all together.
Finish off with a swipe of mascara on the lashes and an opaque pink gloss on the lips, like Laura Mercier Lip Glacé in Blush ($22) or Urban Decay Ultraglide Lip Gloss in Video ($17).