How to Fix Broken Eye Shadow and Lipstick
How to Salvage Your Broken Makeup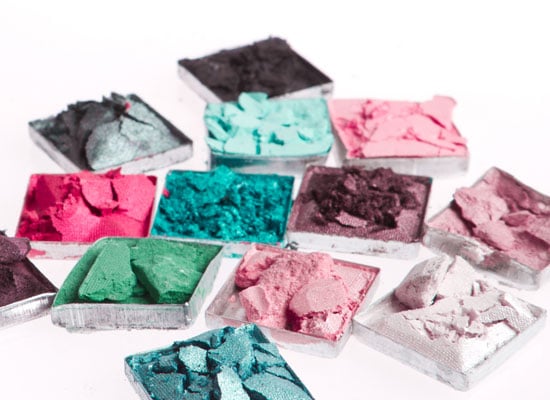 Overstuffed purses or just plain clumsy moments can lead to pulverized powders and chopped ChapSticks. But you can still squeeze more months out of your favorite product with a bit of craftiness. Plus, you can even use these mishaps to your advantage to create a completely customized palette. Learn how to bring broken cosmetics back to life when you read more.
Lipsticks
Method 1: The Fix: So, you've decapitated your latest lipstick purchase (whoops). To fix you can use a blow dryer or lit match to meld the two halves back together. Heat the portion left in the tube, then gently reattach the tip while smoothing the sides. Pop it in the fridge to harden, and you have many more miles of lip color left. Just make sure to clean your hands and tools beforehand so you don't contaminate your product.
Method 2: Change Its Form: As an alternative, you can move your lipstick into another apparatus, like a pillbox or small container with a lid. Using a cuticle pusher, scoop out the remaining product from the tube. Place the broken piece and the extra from the tube into your container of choice. Then, you can use a blow dryer to melt the product down into a smooth surface.
Powders
Method 1: The Fix: Blush, bronzer, eye shadow, and powder foundation have the tendency to self-combust (at no fault to the owners, of course). The first step to revive your products is to crush your broken makeup, in its original container, until it's a fine powder. Add a few drops of alcohol to the mix, and pat down to create a flat surface.
Method 2: Change Its Function: You can also turn any broken blush or shadow into a cream formula. Once you've pounded it down into a fine powder, add Vaseline. Place in a container, refrigerate, and you've created a crack-resistant alternative.