How to Fix Clogged Nozzles
Clogged Spray Nozzles and 5 Other Product Mishaps — Solved!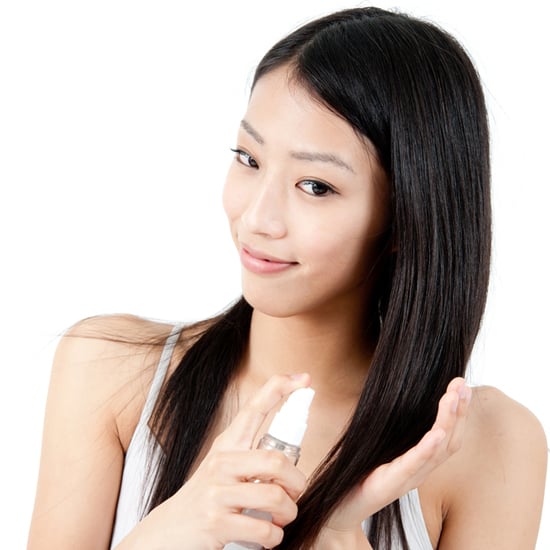 Beauty can be a dirty business, especially when your favorite product bursts or gets a clog. You might already know how to fix shattered compacts and lipsticks, but what about the less glamorous breaks like deodorant and blocked lotion? Learn to remedy these annoying everyday occurrences when you continue reading.
1. Clogged dry shampoo: Aerosol cans have the tendency to clog up after a while, especially dry shampoo since the product particles get caught in the tiny opening creating a blockage. Get rid of the gunk by running the nozzle under hot water. If this still doesn't work, remove the cap and soak in rubbing alcohol to dissolve the obstruction. To prevent this from happening again, try spritzing the spray in short bursts instead of one continuous stream, and always shake the can per instructions.
2. Stuck nail polish top: It happens to everyone: you try to give yourself a manicure and your favorite shade is sealed shut. First, try to run hot water over the seam. Then use rubber pot openers or pliers (if the cap is really stuck) to twist. Next time, clean the edges of each bottle with a remover-soaked cotton pad before closing.
3. Broken hair elastic: Snapped hair ties cannot only ruin your ponytail plans, but they also hurt. To fix, take the ends and create a double knot around the ponytail. Then, to hide any sticking-out pieces from the elastic, take a small section of the ponytail and wrap and tuck it around the elastic. As an alternative, use a bungee hair tie with two hooks on the ends.
4. Blocked lotion pump: Soaps, lotions, creams, cleansers: if it's got a pump, it can get a crusty clog. Insert a bobby pin, toothpick, or needle in the hole to remove the impediment. And to prevent this from happening in the first place, wipe the tip of the pump after every use.
5. Dried-up felt eyeliner: Felt eyeliner makes drawing winged designs a cinch, but it has a tendency to dry out. To rehydrate your product, pop off the end of the tube and take out the ink rod using tweezers. Soak it in warm water for 30 seconds, dry it off, and reload.
6. Broken deodorant: Near the end of the stick, deodorant tends to break off into little chunks. Arrange the pieces in the plastic well at the top, and then place in the microwave. Wrap a damp towel around the base to avoid any drips. Heat for 15-30 seconds to melt and let cool to reveal a resolidified stick.