How to Get Audrey Hepburn's Breakfast at Tiffany's Hair as Worn by Emma Roberts
Learn Emma Roberts's Ode-to-Audrey Hairstyle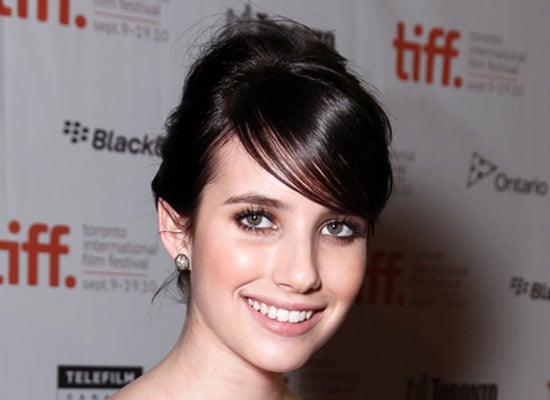 Emma Roberts wore a modern French twist, inspired by the classic style worn by Audrey Hepburn in Breakfast at Tiffany's, at the 2010 Toronto Film Festival premiere of her film It's Kind of a Funny Story. "Emma is such a classic beauty, so I wanted to create a look that was sophisticated, but still fit with her youthful personality," said Nexxus Creative Director and celebrity stylist Kevin Mancuso, who created this feminine updo. This ode-to-Audrey hairstyle couldn't be more timely, as soon we'll all be thinking about what costumes to wear to Halloween parties. (And you can never go wrong with a style inspired by Breakfast at Tiffany's, no?) So to get Mancuso's tips, just keep reading.
Style:
Apply a volumizing mousse, like Nexxus Mousse Plus ($10), as a styling aid.
Blow-dry hair, using the fingers to create lift.
Once the hair is practically dry, use a medium-sized round brush to smooth out the ends.
Create a deep side part. And for that side-swept look, use a small-sized round brush to drag the front portion of the hair down and back.
Pull the hair into a midlevel ponytail. Then, twist the pony up and roll in, securing with bobby pins.
To soften the look and create texture, gently pull on the edges of the style.
Finish:
Apply a lotion, like Nexxus Sleek Finish ($11), to tame frizz.
Finish off by setting the style with a light mist of hairspray, like Nexxus Maxximum ($8).