How to Get a Banded Updo Hairstyle Like Amanda Seyfried 2010-04-26 11:00:00
Get Amanda Seyfried's Sweet, Simple Banded Updo Look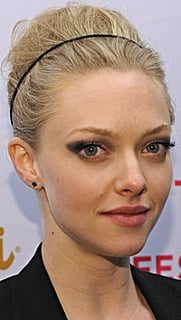 It seems like the headband/updo combination is having another moment. In the last week alone, both Jessica Alba (see her version here) and Amanda Seyfried have worn the style. And it's easy to see why — the look is chic, uncomplicated, and flattering on everyone. To see how you can wear the style for yourself, just keep reading.


Before drying and/or straightening your hair, apply a golfball-sized dollop of volumizing mousse, like Alterna Life Volumizing Spray Mousse ($21), from root to tip.
Once your hair is dry, backcomb from the crown of your head to directly above your ears to create the necessary volume.
Put on your headband — the thinner the better. Wraparound elastic bands are perfect for this look.
Gather the rest of your hair high up on the back of your head, almost at the crown, and pin it under into a soft, messy bun.
Go over the style with a healthy spray of super hold hairspray.