How to Get Blake Lively's Updo at the 2011 National Board of Review of Motion Pictures Gala in NYC
Learn Blake Lively's Twisty, Tousled Updo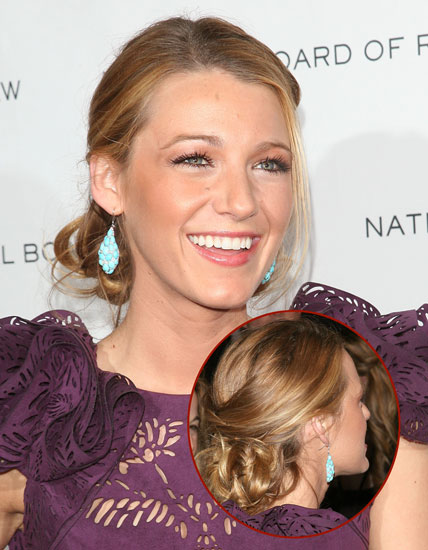 Blake Lively's long, blond strands are coveted by many women, and with good reason. She always seems to come up with the most creative ways to style them. Take, for instance, the twisty, tousled updo she wore last night at the National Board of Review of Motion Pictures Gala. To get the look, focus on creating loads of texture with a few loops and braids added within for a bit of moxie. To see how I would style it, just read more.
Blow-dry the hair with a texturizing cream, like Umberto Texturizer Cream ($10), using a round brush to create soft waves and volume.
Next, form a side part and section the front of the hair from the back. A good rule of thumb is to use the middle of each ear as your dividing point.
Working with small sections in the back, make sure to style each section differently for a more interesting effect. For instance, loop one section and pin it to the nape, tease one strand and pin to secure, twist one section and pin, or fishtail braid another piece and pin within the style. The great thing about this look is that you can do just about any technique and it will look fun and uniquely yours. Tip: try looping some strands into preexisting loops for even more texture.
Finish off by gently placing a few chunkier sections (one at a time) from the front into your updo in the back. For a more romantic style, keep the front soft, allowing a few tendrils to hang down.