How to Get Jessica From True Blood's Hair Color
Jessica From True Blood Uses Box Color. Zounds!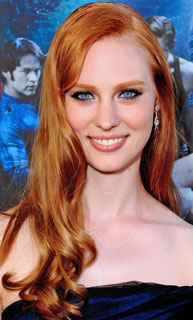 Deborah Ann Woll, who plays baby vamp Jessica on True Blood, recently revealed that her gorgeous titian locks aren't the result of unfairly awesome genetics or a really, really good colorist — it's actually just drugstore dye. Deborah Ann told MARKTBeauty that L'Oreal Excellence Hair Color in Strawberry Blonde 9RB ($7) is her pick. "It's what I've been using for the past 10 years to dye my hair," she revealed. "Affordable and easy to use. Especially since my natural color is so light. Love the subtleness of the shade." We've been coveting Deborah's hair since Jessica arrived in Bon Temps, and if you're a pale natural blonde who'd love to go red without looking ruddy, we'd say Deborah's found an excellent shade solution.