How to Get Lea Michele's Wavy SAG Awards Hair
How to Get Lea Michele's SAG Awards Hairstyle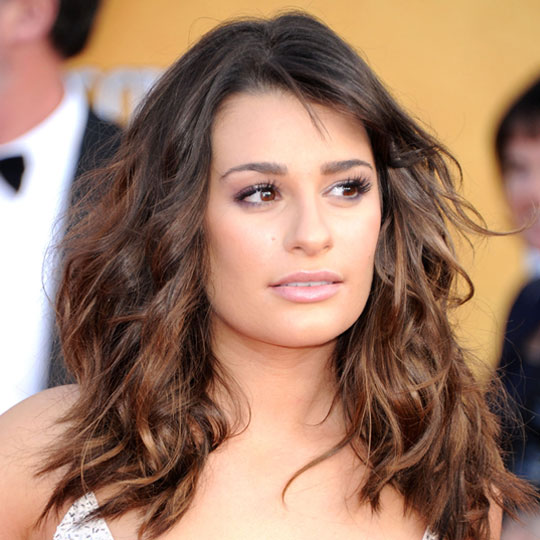 When creating Lea Michele's wavy hairstyle at the SAG Awards last night, Dove celebrity stylist Mark Townsend looked to another era for inspiration. "I went to Lea's dress [a beaded Oscar de la Renta] fitting and immediately knew I had to complement it with a modern take on '70s chic glamour. I drew a lot of inspiration from photos of Bianca Jagger," he said. To see how he accomplished Lea's sexy style, just read on.
Townsend started with clean, just-washed hair. He added a drop of Dove Nourishing Oil Care Serum to smooth Lea's strands.
He then applied a pump of the brand's Body and Lift Mousse throughout Lea's damp hair to increase texture and volume. Next, he blow-dried with a round brush, using about five-inch sections all around.
Then, he curled the hair in about two- to three-inch pieces with a one-inch barrel iron. (Tip: to create big flowing waves like Lea's, direct the curls away from the face.) He also made sure to alternate the time he held each curl in the iron. "The longer you apply heat, the sharper the curl," he explained, adding, "I alternated the curl time between two and 10 seconds to create different shapes throughout the hair that wouldn't fold together."
To create volume at the top, he asked Lea to flip her hair upside down. He then blended a pea-sized amount of Dove Smoothing Cream in his hands and raked it through her hair from the bottom up to eliminate flyaways and increase shine.
To finish, he sprayed plenty of Dove Unscented Extra Hold Hair Spray to lock in the curl. "Lea jokes about how much of this I use!" he quipped.