I'll admit it: I'm lucky and I have nice, thick eyebrows. While I had to start tweezing and waxing them in my early teens to avoid the unwanted unibrow, I've mostly been pretty proud of them. When I visit a new wax-pert (get it?) and he or she compliments my arches, I act modest, but deep down, I agree. Now make no mistake: I am no Cara Delevingne, and when ultrathick, dark eye frames like hers became trendier on the runways and red carpets, I felt my first pang of eyebrow envy. Every time I've recently gotten my makeup done, I've asked the pro to give me bold brows.
Second confession: until last week, I had never filled in my own brows. It's true. No pencils. No shadow. No gel. The closest I'd get was a quick swipe of clear brow gel. Since I can barely draw a straight line or paint my own nails, I didn't have much confidence in my brow-shaping abilities. Then I met with Jared Bailey, Benefit's global brow expert, and he convinced me otherwise. First he taught me the ABC's of brow shaping, which I've shared below. And then he schooled me on how fill in my own brows. It's so easy! Now I'm doing it on a daily basis — and in just a few minutes. Read on to learn my new brow secrets and see my transformation!
Shape Your Brows Like a Pro
Jared showed me Benefit's three-step technique to shaping your brows. "We look for three key portions of the eyebrow — we identify the start, the arch, and the end," he said. Here you can see these points on the model.
Start your eyebrows by making a line from the dimple of your nose to the beginning portion of your eyebrows. "It created a slimming effect on the nose," Jared explained. "It's an illusion but it works."
To find where your arch should go, locate the outer corner of your nose and go diagonally across your face, through the pupil, until you reach your brow. That spot is where the highest portion of the brow should be. "If you wax from that point to the arch, you're going to create a maximum lifting effect for the eyebrow," noted Jared.
Finally, locate the end of your brows by starting at the same corner of your nose, but instead go up by your waterline until you get to your brows. End your arches there. "That creates balance on your face," said Jared.
Eyebrow ABC's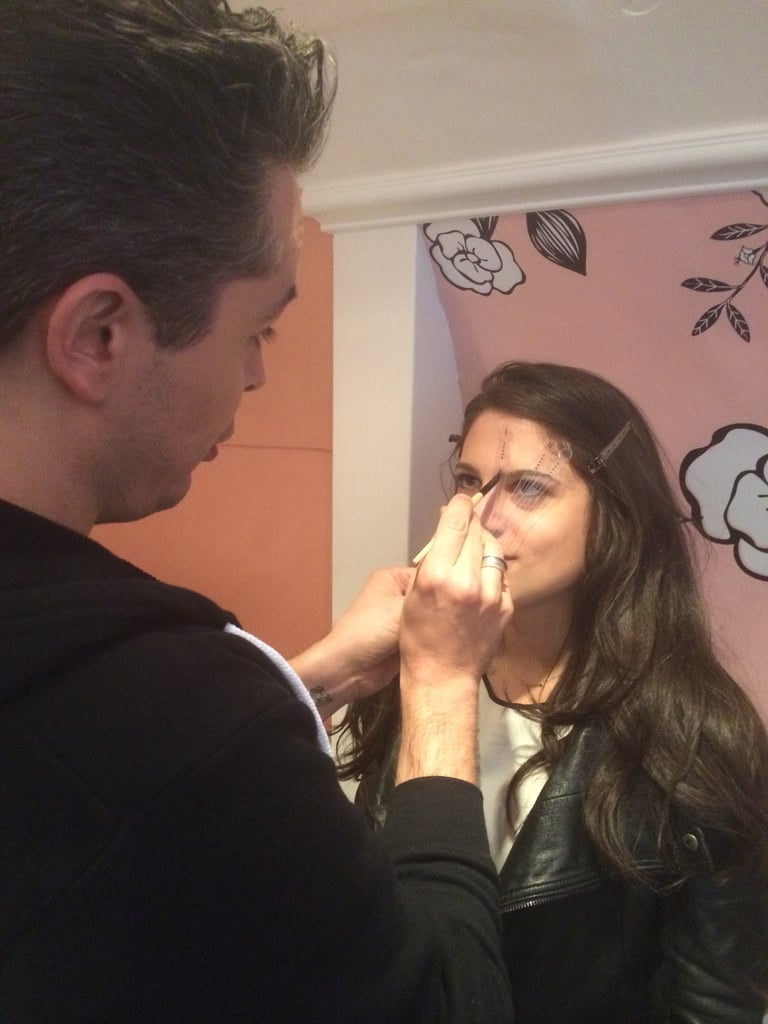 This is Jared showing me his three steps to finding your best brow shape.
DIY At-Home Arches
While Jared (pictured) recommends leaving monthly shape-ups to the pros, here are his three commandments for at-home eyebrow care:
1. No power tweezing. "I think power tweezing always results in overtweezing. Power tweezing is when you try to pull more than one hair at a time. You're going really fast, and that always results in overtweezing."
2. Take a step back from the mirror from time to time. "Look at your brows as a whole. You want to see them as a set."
3. "When in doubt, leave them alone and see a professional." 'Nuff said!
How to Fill In Your Own Brows With Makeup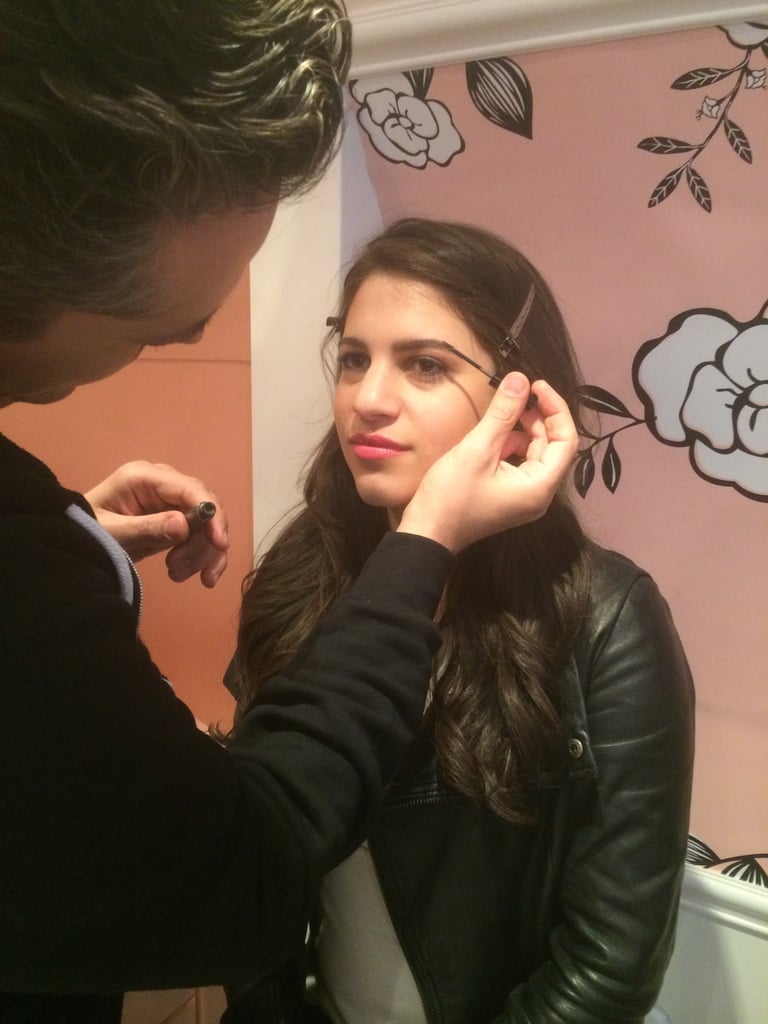 "Eyebrow looks have changed definitely throughout the decades," noted Jared. "I think now brows are coming back to a bit more of a natural look, which is good for of all us, right?" Duh! As you know, I am all about embracing big, bold brows. Here's what he told me about filling mine in: "Don't fight mother nature too hard when it comes to filling in your brows. You have to work with what you have. If you have naturally thinner eyebrows, stay as close to the hairline as possible with your brow filler. You can cheat it a bit, so draw a line on the top of your brows, but never below, because that's going to lower it. So when you're going to fake your fuller shape, fake it from the top."
To execute this, I dipped an angled brush in the dark gel and then in the lighter powder from Benefit's Brow Zings kit [1] ($32) and drew a clean line along the top of my brows until I got to the arch. Then I angled the brush down along the top of the slope, creating more of an angle than my natural curve. Once I had my outline, I filled in my brows with the gel-powder hybrid. I finished by going over the hairs with a few swipes of Benefit's Speed Brow gel [2] ($18).
Trust the Process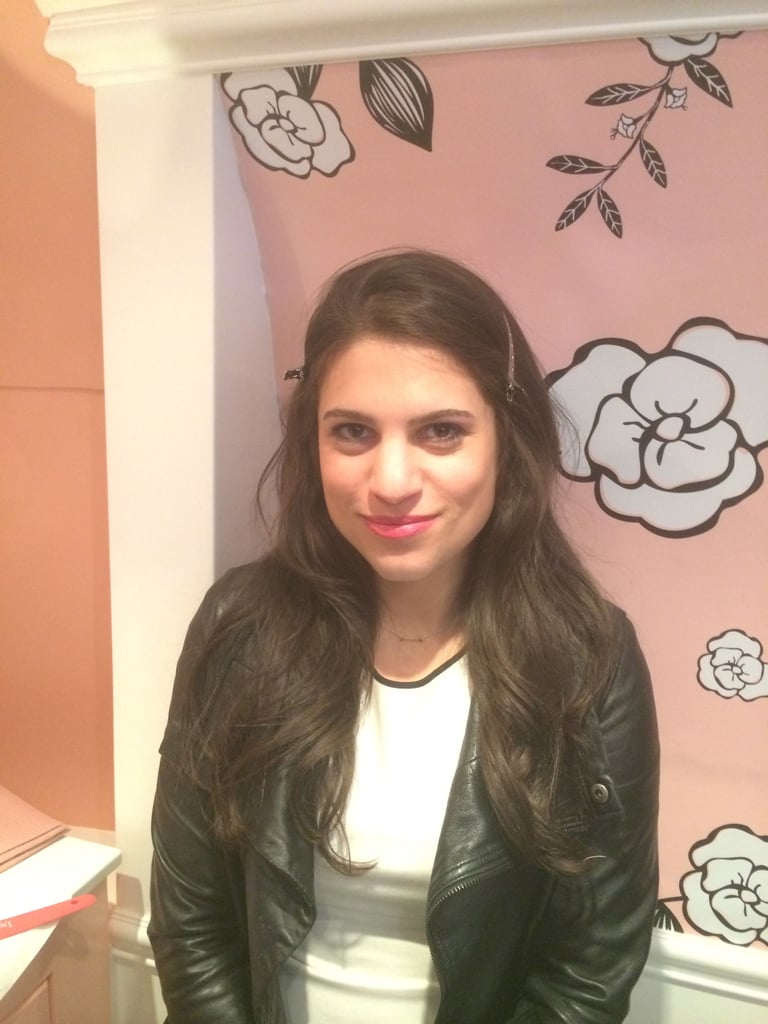 Here's my postwaxed brows before we filled them in.
The Finished Product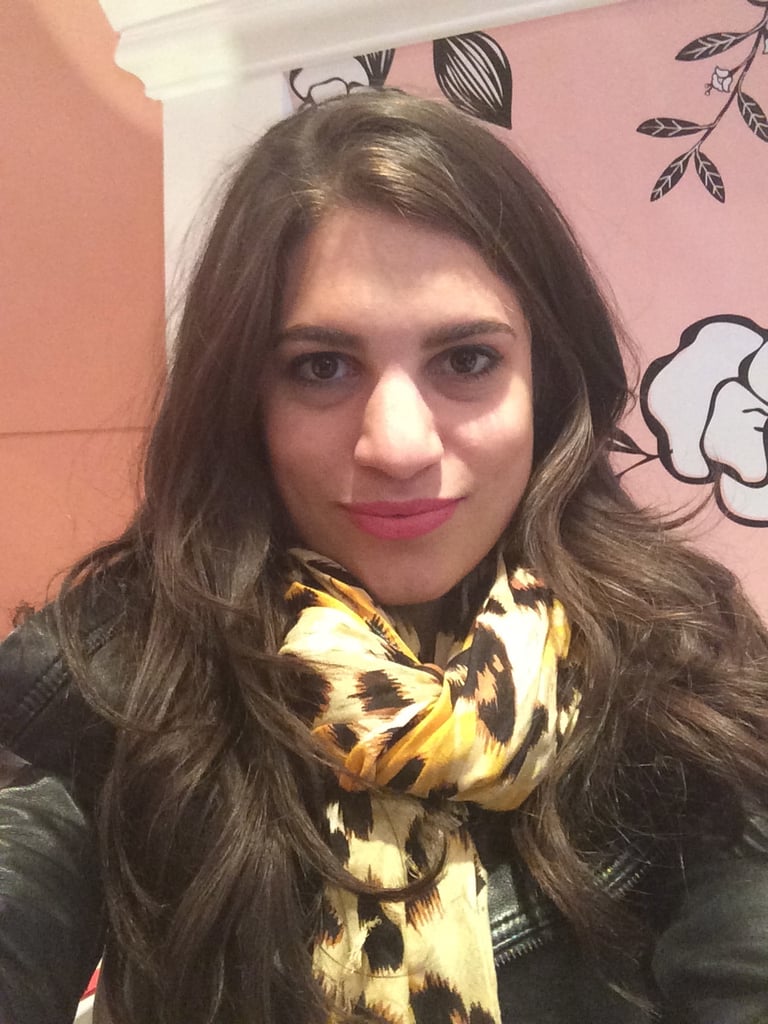 Here's my postbrow makeover selfie.