How to Get a Pretty Bob Haircut
How to Get the Right Bob Cut For You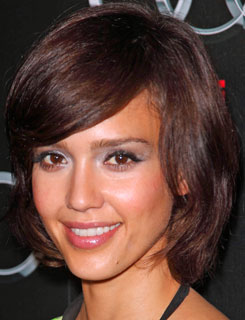 Bob haircuts are universally one of the most coveted looks, and there's almost nothing as simultaneously sexy and classically beautiful. But for those of us dreaming about one, especially if we have longer hair or curls, the proposition can just seem too risky. It doesn't have to be! I'm laying down exactly what kind of bob looks good on each face type and hair type. So to find out what you need to do to get the most bang out of your bob, just keep reading.
If you have straight hair that's fine, a blunt bob will do wonders for you by creating the illusion of thickness.
If you have medium to thick straight hair, a graduated bob that's softly thinned at the ends will look best.
If you have wavy or loosely curled hair, a mid-neck or shoulder-length bob with soft layers and thinning is soft, romantic, and easy to style.
If you have medium or thick hair, substantial, eyebrow-grazing bangs are best. For fine hair, side-swept swoop bangs are prettiest.
If you have a round face: a long, angled bob will give your face extra length and definition.
If you have a square face: a chin-length bob with bangs will disguise heaviness or hard angles.
If you have a heart-shaped face: a mid-neck bob with bangs will balance your face.
A classic chin-length bob with bangs looks great on oval faces.
Long faces get a little extra width with long bangs and a chin-grazing bob.