How to Get Pretty Summer Skin Without Bronzer
Get a Summer Glow Without Bronzer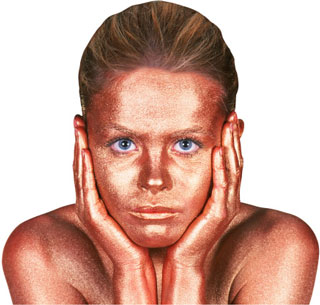 Bronzer has become a warm weather makeup staple for many women, since it defines, highlights, and softens while warming up your skin tone. But what about those of us with very deep or very fair skin, or ladies who just aren't fans of bronzer's effects? Fear not! You have options. Bronzer may be the default, but there are plenty of products out there that'll give you seasonally-appropriate sexy skin without the bronze. For tips and tricks to get pretty without powder, just keep reading.
Substitute a light coral or baby pink blush. Light but bright shades make you look like you're glowing from within, and they define without the heavy look that bronzer sometimes gives.
To give your skin a soft glimmer, try a creamy highlighter like MAC Lustre Drops ($18.50). Your skin will get the same flattering light diffusion effect it would with bronzer, but without the opacity, so your own skin tone shines through.
To make skin look soft and supple, mix a couple drops of oil in with your moisturizer. I love argan oil for my face, but avocado and neem are great, too.
If you like powder, but just don't like the color of bronzer, try a luminizing powder, like Tokidoki Luminosa Powder ($22) which is a sheer, universally flattering light pink instead of orange-y.