How to Get the Right Foundation Texture For Your Skin 2010-08-17 09:00:00
Discover the Best Foundation Texture For Your Skin Type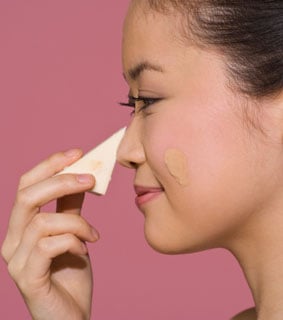 Ever bought a foundation that's exactly the right color, but somehow it winds up looking crappy anyway? It could be that the stuff in question was just a bad texture for your particular skin type. We asked NYC New York Color makeup artist Mathew Nigara (who has worked with stars like Jessica Simpson and Kate Winslet), to explain which foundation textures work for varying skin types. To see his recommendations, just keep reading.


If you have dry skin, go for a cream compact foundation or a liquid with "a more emollient texture that will settle into the skin and not get caught on dry patches," Mathew says. Don't ever skip moisturizing beforehand, though. Your skin needs it no matter what.
If you worry about uneven skin tone, Mathew suggests you try something a little transparent. "Sheer foundations or tinted moisturizers give a subtle wash of color and help in achieving a supple texture," he explains.
Need a lot of coverage? Mathew recommends cream foundations as they're the most opaque.
Oily skin? Oil-free foundations were made with you in mind. "The natural oils of the face will combine with the oil-free foundation and create a beautiful, natural finish," he says.
Combination skin works well with a traditional fluid base and then a powder foundation for touch-ups. Mathew always keeps powder foundation around because it's "great for a quick application, or just used on the t-zone to absorb excess oil."