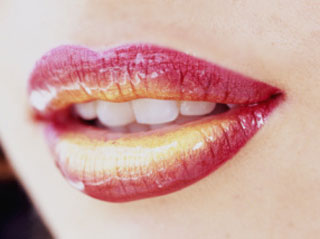 Your lips have some of the most sensitive skin on your body, and chapped lips can make lipstick look rough or crumbly. It's a bad scene, but you can avoid going there with these tips.
Chad Hayduk of Three Custom Color Specialists says to avoid matte or long-wearing lip color. "They have fewer moisturizing ingredients and can dry the lips," he says. "Instead, choose a lip gloss or moisturizing sheer lipstick." He recommends Simply Beautiful Sheer Lipstick ($21.50).
Check the ingredients on your lip balm. Menthol, camphor, and salicylic acid are in many lip-healing treatments, but they dry lips out further.
If you don't have a good balm, use your under-eye cream on your lips, let it set, and then put the lipstick over that. Your lipstick will go on smoother and your lips will look fuller.
Skip the lip liner; it may keep your color in place, but it's also incredibly drying.
Use a moisturizing lipstick primer, like Pop Beauty Lip Magnet Primer ($15). Primers fill in fine lines, protect lips, smooth things out, and keep your color on longer.