How to Get Zoe Saldana's Waves
How to Get Zoe Saldana's Signature Shiny Waves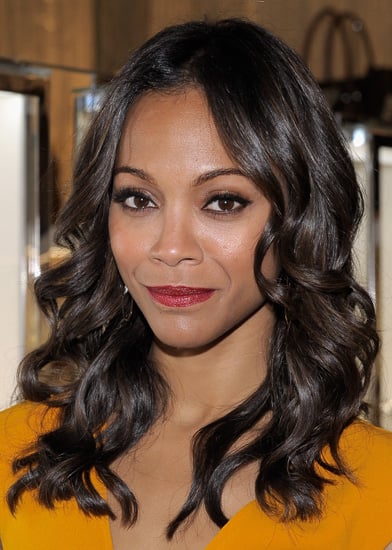 Zoe Saldana has some of the freshest hairstyles in Hollywood, along with perhaps the most on-point style sense around. But one particular look she's most known for is her signature, highly covetable waves. Zoe's hairstylist, Aviva, shares her tips on how to get Zoe-style curls just right:
For the recent opening of Michael Kors's new boutique in LA (as pictured above), Aviva began by prepping Zoe's hair with Moroccanoil Treatment. "I take the time to section her hair so that every strand is coated," Aviva explained.
Next, she blow-dried Zoe's hair using Phytovolume Voluminizing Spray and a Spornette mixed bristle brush, applying the product once again using a section-by-section technique.
She then wrapped one-inch portions of Zoe's hair around a three-fourth-inch curling iron, alternating the direction of the curl throughout. For the hairline, however, hair was directed away from the face.
After breaking up the curl with her fingers, Aviva finalized Zoe's style by spritzing on L'Oréal Elnett hair spray for texture, shine, and hold.