How Gwyneth Paltrow Got Ready For the Oscars
Gwyneth Paltrow's Fun, Fabulous Pre-Oscars Beauty Routine Revealed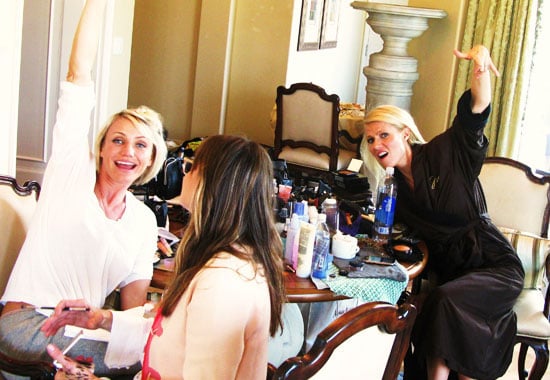 When you head out for a night on the town, you might have your friends over beforehand, but chances are, Cameron Diaz is not among the bunch. If you're Gwyneth Paltrow and it's the Oscars, however, that's exactly how it will go down. (Who knew they were so close?) And as you might imagine, prepping for an event like the Oscars is no small feat. "Getting the dress, the jewelry, the hair and the makeup requires a lot of work from stylists and designers who prepare months in advance for the event," Gwyneth revealed on her website, GOOP.
For this year's Oscars, stylist Elizabeth Saltzman scored big in procuring Gwyneth's memorable white Tom Ford — complete with a classy cape. "Once we had the dress decided on that week [before the Oscars], everything else fell into place," Gwyneth said. See all the details on how it all came together behind the scenes when you read more.
Gwyneth's Oscars day started out with a preshow workout involving an all-out cardio routine. After a shower at the Montage hotel in Beverly Hills, celebrity colorist Tracey Cunningham touched up the star's roots. "She's got my particular color down to a precise science," Gwyneth divulged.
Next, it was some quality pool time with her kids, Apple and Moses, followed by a lunch of fries and a turkey burger. Then for the next hour and 45 minutes, celebrity hairstylist Adir Abergel and makeup artist Leslie Lopez worked with Gwyneth to formulate the perfect red-carpet ensemble.
While Abergel first tried a tousled bun on Gwyneth, the entire team eventually ruled that the sleek lines of the dress would be better complemented with a long and straight ponytail. As for makeup, Lopez opted for just a touch of black liner and a pretty, natural palette.
Once the finishing touches were in place and jewelry was selected, Gwyneth was on her way to the Kodak Theatre Hollywood and Highland Center. Her complete look below: