How to Have Healthy-Looking Skin
Healthy Skin Is In: 5 Tips For Keeping Yours in Check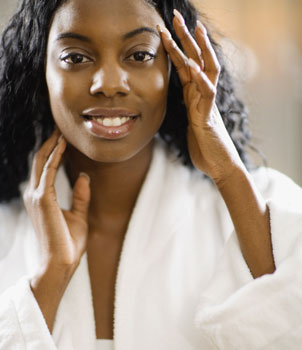 A former high school chemistry teacher and self-confessed "skin care junkie," Marie Veronique Nadeau started Marie Veronique Organics after becoming frustrated with the lack of decent sunscreen options in stores. So she decided to make some of her own, and the rest is history. From DIY mask ideas to advice on when to start using antiaging products to the reasoning behind why oil on the face is a good thing, Marie is a wealth of skin care knowledge. To find out the rest of her advice on how to keep your skin in check, just keep reading.
Her advice to young women: "It's going to be more about prevention, maintenance, and the big thing is sun protection. You can't start too early. And by sun protection, I mean serious sun protection. I mean it's all day, every day, rain or shine."
The SPF levels she recommends: "When you're getting full-on sun exposure, then an SPF 30 is good. For the rest of the year, whether you're going to the office, or whatever else you're doing, you still need protection — so an SPF around 20 is fine."
Her views on how much skin care is related to what we put in our bodies and what we put on our bodies: "What you eat and what you do physically is very important, but when it comes to your skin, you do have to take the extra steps or it's going to start showing. Protection and repairing your lipid barrier at night [and] all those things; just paying attention to what your skin's idiosyncrasies are."
Her views on aging gracefully: "People go to great and ridiculous lengths to try to get it [youthful looking skin]; I mean going beyond reasonable, preventative measures. You can probably see where I stand in terms of Botox treatments. It's not meant for people in their 20s. It will lead to atrophy of the muscles sooner."
On why healthy skin is in: "If you've got great skin, it radiates. Healthy skin is the signal that you are healthy and fecund. We are hardwired to notice these things, so it's very attractive. It is a very deep biological thing we're talking about. I think that's why, as we age, there's this focus on young healthy skin because, again, it's sort of mimicking science."