How to Hide Tan Lines With Makeup
Disguise Tan Lines With These Simple Makeup Tricks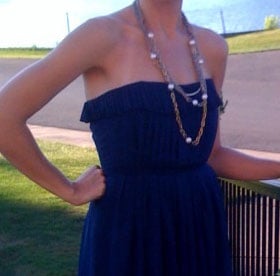 Last month, I attended my cousin's wedding in Pennsylvania, and as you might be able to detect, my tan lines also came along. Of course, if you have visible tan lines, you can always let them roam free, but in case you want to disguise them a bit, there are options. While you can always try a self-tanner, you run the risk of ending up with streaks or a strange orange glow. That's why my camouflage of choice is makeup. To get tips on how to MacGyver your way to evenly toned skin, just keep reading.


Ace of base: Using a shade that's closest to your darker, tanned skin, apply foundation or concealer with a small foundation brush to the lighter skin. Blend to break up any harsh lines. Try a sheer, waterproof formula, like Make Up For Ever Face and Body Liquid Makeup ($38) or Cargo Blu_Ray Concealer ($7).
Bronzed babe: Next, using a fluffy blush or powder brush, apply a lightly shimmered bronzer to diffuse and set. You can also create even more lasting power with a swipe of translucent powder on top.
Customize: If your tanned skin is pink or rosy, consider adding a touch of blush to your concealer or foundation to lightly brighten and blend out the tan lines. If you need more of a brown hue (or you don't want to go out and buy a whole new bronzer or foundation shade), don't be afraid to mix in an instant bronzing gel, like Bonne Bell Gel Bronze instead.