How to Keep Glitter or Shimmer Eye Shadow in Place
Keep the Sparkle in Your Eye (Makeup), Lose the Mess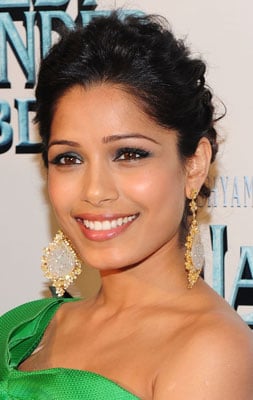 Even though Freida Pinto is already blessed with naturally luminous skin and lovely brown eyes, she took it up a few notches at the premiere of The Last Airbender in NYC. The words "glittery blue eye makeup" might conjure up images of a Flock of Seagulls fan club, but Freida proved the look can be done in a sophisticated way. When wearing a bold hue with a glitzy finish, the last thing you want is for flecks of iridescent shadow to travel south. To prevent slippage, first prep the eye with a primer or a skin-toned cream eye shadow. Find out the rest of my tips for keeping a shimmery shadow in its place when you read more.


Stay-put shimmer: To keep shimmer from falling off your eye makeup brush, first lightly dampen the brush's bristles with water. Apply a powder shadow, like Urban Decay Glitter Eye Shadow in Goddess ($17), to the brush and softly pat the color onto the lid. To prevent your shadow from moving around, keep your brush strokes to a minimum. And for even more protection, set with a swipe of translucent powder.
Cleaning spills: Don't cry over spilled shadow. Instead, use a Q-tip, fan brush, or Scotch tape to clean any slips.
As for the rest of your makeup: If you choose to wear a color on the crease, try a matte shade to avoid overkill. For the daytime, it's probably best to keep the rest of your makeup neutral or in the pink or peachy color family. For nighttime, try highlighting one other feature for added drama. A touch of shimmery gloss on the lips would be a nice touch.