How to Keep Hair and Makeup Perfect at Parties
5 Easy Tips For Party-Proofing Your Hair and Makeup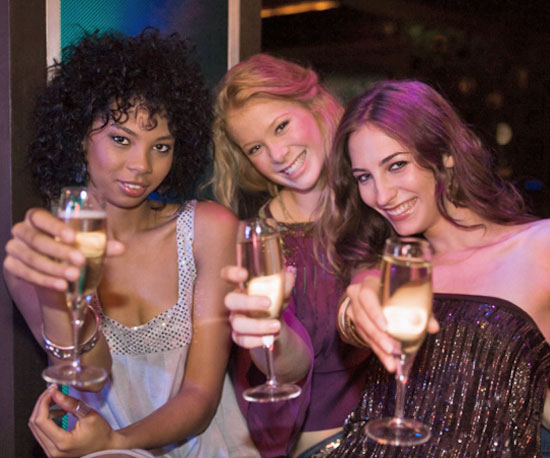 Why is it that by the time the cameras come out at some holiday parties, everybody looks like they've been hiking the Sierra Madres, all windburned cheeks and frizzy, lopsided hair? While I can't do anything about late picture takers (and their tendency to post unflattering photos on Facebook), I can help protect you from their nefarious snapping with a few good tips. Besides commonsense stuff like wearing waterproof mascara and eyeliner, there are a few other principles that it's always good to remember when you're going to have a long night out and need to maintain. So to find out what you can do to keep your makeup in place and your hair upright, just keep reading.
Get stained: Instead of wearing your usual lipstick and blush, try a lip and cheek stain like TheBalm Stainiac ($17). The color will last longer, and you won't end up with any weird streaking or fading as the night wears on.
Prime time: Primer is absolutely vital if you want your makeup to stay in place all night. If you're going to be running around or dancing til morning, you're going to want a heavy-duty primer like VS Makeup PRO Airbrush FX Face Primer ($14).
Put it up: It's a lot easier to keep an updo looking perky all night than it is to keep every hair in place if you're wearing it down. Try a French twist or a messy low bun for options that will stay perfectly in place for hours.
Scrub down: If you want your skin to look fresh and glowy all night, remember to exfoliate in the shower with a scrub or brush. Hydrate with oil or your usual moisturizer afterwards to make your skin softer, too.
Keep cool: The biggest contributor to ruining your hair and makeup at a holiday party? Your sweat. If you've got a choice between a chic little dress and that reindeer sweater, choose the option that's going to let you bust a move without melting into a very festive puddle.