How to Look Good in Five Minutes
Get January Jones's Topknot and Red Lips in Five Minutes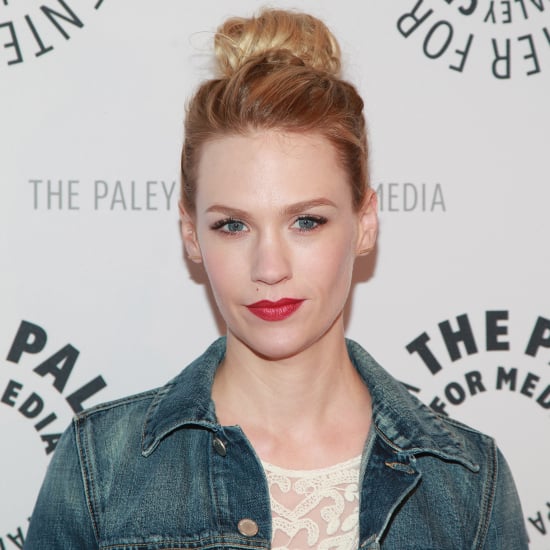 Let's face it: Wednesdays are rough. By the middle of the week, getting yourself ready and out the door in a timely manner can be almost impossible. But January Jones showed off a gorgeous, and incredibly easy, hair and makeup pairing that can pull you out of your hump day rut. Her crimson lips and textured topknot can be done in five minutes or less:
Start by spraying your hair with a dry shampoo, like Aveeno Active Naturals Pure Renewal Shampoo ($8), to soak up excess oil and add a healthy dose of texture. Then tease a one-inch section of hair right at the top of your forehead and roughly sweep it back.
Pull your hair into a high ponytail and then twist your hair around the base. Secure with pins. The messier the better, so use your fingers to rough up the hair if you'd like.
Line your lips with a red lip pencil, like Too Faced Perfect Lips Liner in Perfect Red ($17), before filling them in with the liner. Swipe your favorite matte red lipstick over it.
Curl your lashes and add two coats of mascara to your top lashes and one coat to your bottom lashes. Now repeat: I just rolled out of bed like this!