How to Make Eyes Look Bigger
Emphasize Your Eyes Without Making Them Look Smaller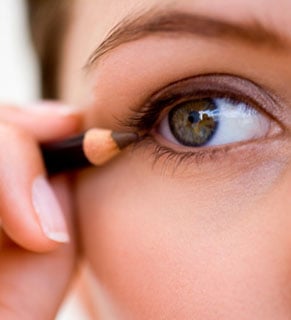 Eye makeup is supposed to accentuate your peepers, but for many of us, it actually just makes them look smaller. If you shy away from wearing much in the way of liner or eye shadow because the usual techniques just don't look good, though, you shouldn't. Celebrity makeup artist Angela Levin has a surefire eye look that will make your eyes appear larger and brighter, no matter their size or shape. So to find out how to do it, just keep reading.
Instead of one liner, use a shadow/liner in a light, shimmery shade and a creamy pencil in a dark, matte color.
Using your pencil, begin drawing exactly in between your lashes, either by dotting or, if your pencil is extremely fine, filling in.
Concentrate on the centers of your upper and lower lashes. Only line the center of your lower lashes, not the inner or outer portions.
Then, using a thin, angled liner brush, use the lighter shadow to waterline and close to your lash line, keeping it thin in the inner corners, and thickening as you go out.
Connect your lines from the bottom up.