How to Make Foundation Look Better
5 Tips For Getting Great-Looking Foundation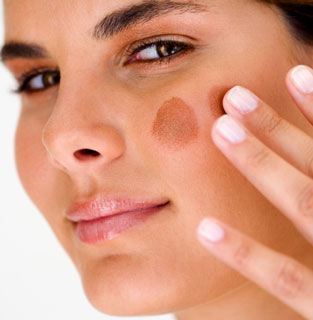 Getting a pretty, natural look with your foundation is about more than just color. Texture, finish, your skin type, and even the seasons can be important considerations. So what do you need to know to get it right? New York Color makeup artist Mathew Nigara has the answers. So to start saving face, just keep reading.
Have more than one foundation, because your skin color changes with the seasons. Mathew says, "I always recommend that women have two different foundations. The colors shouldn't be more than two shades deeper or lighter than the other. They should be in the same color family, whether it's a pink base or a yellow one."
Just dusting on powder doesn't provide the best finish. Instead, Mathew suggests you follow this tip. "Apply the powder as a finishing step to your makeup using a puff," he says. "Then buff off the excess with a big, natural hair powder brush."
Conceal! Don't stop at foundation — concealer is a must. For applying it, Mathew favors using a dabbing motion with your ring finger.
Primer isn't necessary, but it is a good idea. "It's instrumental in achieving the true color tone of your makeup," he says. "Plus, you'll need less foundation."
Think of your skin type. If you have acne-prone or dry, sensitive skin, not all application techniques are created equal. "You should never rub foundation on," Mathew warns. "It'll only irritate skin further. If you apply your base with a dampened sponge and gently pat on the makeup, your skin will be less irritated and smoother."