How to Make Your Valentine Happy For $10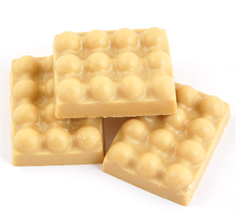 Got a sweetheart? Got 10 bucks? Then you can have an incredibly easy (but memorable) Valentine's Day gift. Lush just launched this Hottie massage bar ($9), and it's pretty much a foolproof present. The nubby bar is made with cocoa butter and shea butter, so it melts upon contact with skin; vanilla, black pepper, and ginger add a slightly warm and very pleasing scent. Package it with the promise of a massage, and you're golden.
You can MacGyver a massage setup on your bed fairly easily. First, place a towel on a bed to protect sheets from the oils within the bar. Seriously, do this or you'll wind up with stained sheets. To make things more comfortable, use pillows to support your sweetheart's head so his or her face isn't smushed. (This video explains how to do it.)
Since you're probably not a massage therapist, don't worry too much about using the perfect technique. It's more about giving your own energy and touch. Generally, you can't go wrong with a little shoulder kneading and large, sweeping circular motions on the back. Don't forget to give the arms a rubdown, too. If your valentine returns the favor with a reciprocal massage, you just might have a keeper.