How to Match Eye Shadow to Clothing
Yes, You Can Match Your Shadow to Your Dress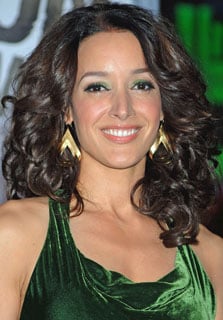 Matching makeup to clothing can be cheesy or cool, but Jennifer Beals pulled it off perfectly at last night's Book of Eli premiere. Her emerald-colored dress and matching eye shadow have me green with envy.
Fortunately, getting this matchy-matchy look right isn't nearly as hard as it looks. You just need a few guidelines and a couple of tips. So to find out how to do it, just read more.
Don't match the eye shadow and clothing exactly. Keep your shade in the same color family, but go lighter (as Jennifer did) or darker, if you're wearing a pastel shade for something dramatic.
Throw on some subtle glitter or shimmer. When matching with clothes, your eye shadow shouldn't be a solid block of color unless you want to look like you just stepped out of Blade Runner, and a little sheer gold or silver sparkle on top will break things up and soften the look so it doesn't come out harsh.
Keep the rest of your makeup simple. The matched color will draw a lot of attention, so in this instance bold blush or bright red lipstick can look clownish.
Don't overdo it on the eyeliner. Your eyes already look so bold that a big cat eye will be Cleopatra-style dramatic. If you want that, go on with your bad self, but otherwise stick to waterlining your upper and lower rims.