How to Match Lipstick to Shoes
How to Match Your Lipstick to an Accessory Without Looking Dorky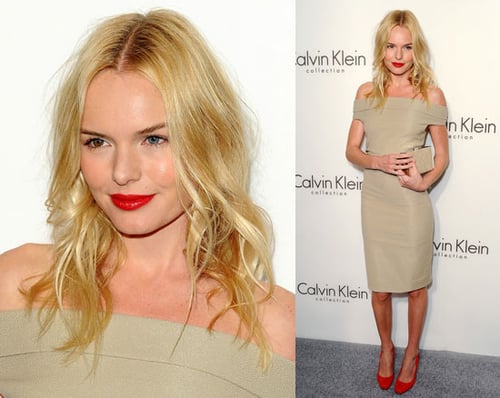 Kate Bosworth is known for her impeccable style, and she sure knows how to turn heads. At Calvin Klein's afterparty in New York, she wore a dashing tomato-red lipstick. To give the look an interesting twist, she paired the bold shade with a taupe dress, simple makeup, and red wedge heels that matched her lipstick perfectly. We've already talked matching lipstick to your nail polish, and we've even covered matching lipstick to your dress, so for tips on coordinating your lipstick with any accessory, read more.
Pick an accessory: Have a favorite chunky bracelet, belt, or ring? It doesn't have to be just shoes to make this look pop. But to avoid going overboard, just keep it to one accessory.
Go bold: For maximum impact, pick a lipstick shade with a punchy effect, like bold raspberry, intense red, or even the latest orange-toned shades. For a cohesive look, you can keep your entire ensemble either all warm or all cool; but for something unexpected, match a cool lipstick and accessory with a warm-toned outfit, and vice versa.
Simplify: Tone down the rest of your makeup for a chic finish. Champagne-toned shadow, a blush that mimics your natural flush, and a few swipes of mascara are all you really need.
Custom blend: Can't get the perfect lipstick shade you want? Create your own blend with lip products you already own.
Match, but don't match everything: The trick is to keep everything clean and simple to avoid cluttering up the look. Red lipstick, shoes, purse, and nails can become too busy.