How to Organize Makeup
Organizing Options: Put Your Makeup in Its Place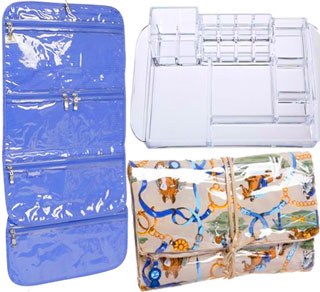 Makeup is one of those things that gets away from you. One minute, you're lamenting the fact that you don't have any good eyeliner, and the next time you turn around, they're multiplying like tribbles. That's why you need a good organizer. To find the right kind for your style and needs, I've got some tips on what to look for. So to find out how to get — and keep — your makeup all neat and easily reachable, just keep reading.
Think about how much of each kind of makeup you own. If you have lots of brushes, or you're an eyeliner and mascara fiend, an upright organizer box will maximize your counter space.
If you're eye shadow or blush obsessed, a hanging organizer will allow you to see all your colors and will lie flat, taking up the minimum amount of space.
Consider how much of your makeup you haul along with you. If you'd be shuffling stuff in and out of bags constantly because you bring an armada of product out, a multi-bag organizing system that will allow you to take more or less stuff without moving your stash might be best for you.
Do you apply at home, or on the run? If you keep all your stuff in your bathroom 24/7, a counter console is an elegant and smart solution. If you end up applying at work or travel a lot, a roll-up organizer or a train case may be better for you.
If you lose stuff in dark corners of your makeup bags, an organizer with mesh or clear plastic pockets is a must.
When it comes to makeup bags, organizers with pockets and holders are far superior to those without — even if the ones that don't have them are larger.
Check out the cute examples of different organizing options below to see what works and what's out there!