How to Paint Your Nails Perfectly
One Simple Trick to Acing Your At-Home Manicure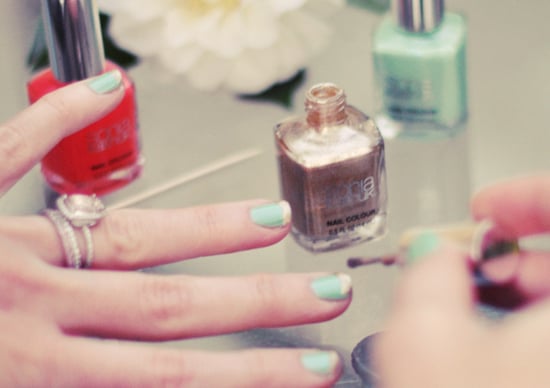 DIY manicures can sometimes be more trouble than they're worth, especially when you're painting using your nondominant hand. Trying to control your polish brush around the curves of your nails inevitably results in painted cuticles and lumpy polish. But that doesn't have to be the case any longer. Nail guru Deborah Lippmann shares a simple tip for painting your opposite hand — no matter if you're right- or left-handed — and it's a lot easier than you'd think.
"The mistake we make is trying to polish our hands in the air," Lippmann says. In other words, we balance our elbow on a flat surface, put our hands directly in front of our face, and polish away. But according to Lippmann, that's a surefire way to wind up with a messy manicure.
Instead, lay your opposite hand flat on a table and angle it so your arm is parallel to your body. "When you're polishing, once you put the brush down, just pull it straight. Don't try to curve it," Lippmann says. So how do you get into the nooks, crannies, and curves of your nails? "Put a little more pressure on the brush so that it widens, creating a curve," she says. "There's enough bristles on the brush for it to do the job for you." With a little bit of practice, a perfect at-home polish job is well within your (perfectly manicured) reach.