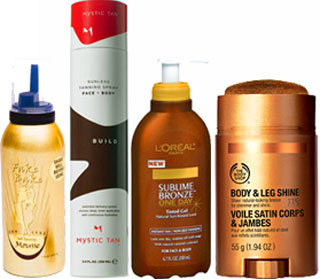 Did you know that every self-tanner is different? Yes, it's true — every formula has its own ratio of colors, meaning that the Neutrogena that looks divinely bronze on your best friend can just look totally orange on you. And depending on your skin type, a tanner can leave you with patches or take forever to dry, streaking you up. So how's a girl to pick her poison? I've got a few tips on choosing the right shade and texture for your skin, so to find out how, just keep reading.


If you have dry skin, a gradual tanning lotion is best for you. Moisturizing, creamy formulas are the perfect option, because as the product works over time, you won't get that telltale patchiness.
If you have oily skin, try a mousse or gel formula. Self-tanner is going to take a little longer to dry on you, so spray tanners and lotions are more likely to run. Mousses and gels both sink in quickly, so you'll get even results.
If you have pink undertones, many self-tanners may be too orange for you, and most tanners get more carrot-y as they fade. To keep yourself from the orange menace, think about trying a wash-off tanner — they're usually more brown or golden than their skin-dyeing counterparts, which will look more flattering on your skin.
Consider a wash-off tanner if you're looking for a more subtle shade change. As with gradual tanner, you can build the color to the depth you want instead of going way too dark, and you're not stuck looking tan if you decide you don't like it.
If you have golden or olive undertones, make sure to use your tanner sparingly. Many self-tanners have lots of red undertones, and if you slather it on thick it can muddy, rather than accentuate, your beautiful undertones.
Check out the widget below for a bunch of self-tanner examples: