How to Prevent Lipstick From Feathering 2010-05-17 08:00:10
How to Prevent Lipstick From Flaking, Caking, and Feathering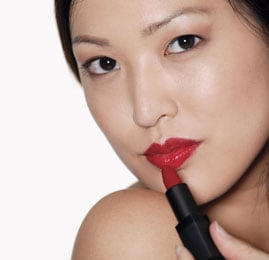 We've explored different ways to prevent both foundation from caking and concealer from creping. I even have you covered on the various ways to keep eye shadow from creasing. To conclude this series on keeping makeup smooth, let's talk lipsticks. Find out tips on how you can keep your lips feather-free when you read more.


Clear lip balm: Not only does ChapStick help keep the lips hydrated and smooth, but extending a clear lip balm around the outer edges of the lips during application also creates an invisible shield that prevents lipstick from traveling.
Color in between the lines: A light layer of foundation (optional), followed by a neutral or colorless liner, creates a solid base for keeping lipstick in check. For both items in one package, try Jemma Kidd Makeup School Lip Perfector.
But if you prefer to go liner-free . . . : First apply face powder to the lips, apply lipstick, and blot. Repeat, but skip the blot step the second time around.
Exfoliate: Probably the most obvious choice, exfoliating helps to eliminate feathery, peeling skin. Rub in Lush Sweet Lips ($8.50) to keep lips velvety soft, or do-it-yourself by mixing up your own sugary scrub.
Prime time: Lip primers, like Origins Underwear For Lips ($14.50), contain silicone to prep the lips by making a smooth, even surface.
Check your products: If you find that you still have lots of caking, your products could be old or lacking in quality. Toss lipsticks when necessary, and don't be afraid to make the investment for the perfect pigment.
Get glossy: When all else fails, go for a richly hued gloss or highly emollient lipstick instead, which both glide on more smoothly and tend to resist caking.