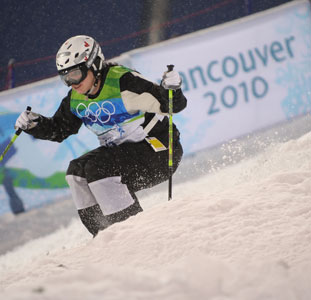 The 2010 Winter Olympics commence tonight, and that means we'll be seeing lots of activities over the next two weeks. With over 5,000 athletes participating in the competition, that's a whole lot of skincare needs to consider. So in the spirit of the games, I've gathered together a few ways you can protect your skin from the elements. Whether you're just starting out on the bunny slopes, headed out for a day of snowmobiling, or you're a world class athlete, here are a few different things to consider before you head out. Just keep reading.


Drink up: While you might be tempted to party it up with excess alcohol during a weekend skiing trip, think again. Skin is comprised of about 60 percent water, so keep it hydrated and supple by drinking plenty of water. Also, consider using a humidifier at night to add more moisture in the air, particularly if you're in a dry-weather climate. Tip: Avoid hot showers and long soaks in the hot tub, which can actually dry out skin.
Climate control: When it comes to body lotions, think emolliency. Kiehl's Imperial Body Balm ($42) and Ole Henriksen Skin Insulator ($35) are specifically formulated to protect skin against harsh weather conditions. As for your face, a rich night cream used during the day instead will provide even more of a barrier to exposed areas.
Sun protection: If you're at a higher elevation, the sun's rays and thinner atmosphere can be even more dangerous to your skin. Sunscreen is a must, and there are lots of waterproof (and sweatproof) options, like SkinCeuticals Sport UV Defense ($33) or for your face, Kiehl's All-Sport "Non-Freeze" Face Protector SPF 30 ($18.50).
Glare up in there: To protect your eyes from a painful sunburn, be sure to wear goggles or sunglasses with both UVA and UVB protection. Again, sunscreen is a must.
Getting lippy: For even more sunburn prevention, try a SPF lip balm formulated especially for high endurance activities, like Banana Boat Sport Performance Lip Balm SPF 50 ($3).
Burn, baby burn: Perhaps the best protection against windburn is coverage, whether it be a scarf, hat, gloves, or neck warmer. Got sunburn? Check out some tips from Fit to help alleviate the pain.