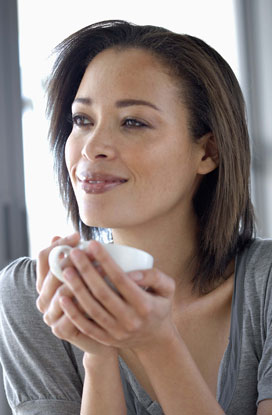 At one point or another, we've all hit the midday slump. So on days where you aren't feeling or looking your best, there are a few simple makeup tips you can use to bring you (and your complexion) back to life. Find out more when you keep reading.
Powder and bronze: For an instant way to warm up the face, a bronzer is your best bet. Becca Cosmetics' national makeup artist, Stacy Pearson-Gleason, recommends using a fine brush like Becca's half-moon-shaped #34 ($40), and apply a sheer bronzer under the cheekbones and where needed. "Apply a little bit of powder or blot before you do a touch-up of bronzer," she says. "You don't want it to grab or hold onto skin that is oily."
Lip and cheek cream: A multitasking product, like Becca's Lip & Cheek Crème ($29), provides instant color to the face, and is easy to apply. Just smile and dab the cream to the apples of your cheeks, and use it on the lips with a little bit of gloss over it.
And for the eyes: For a quick touch-up on the eye, try a dual-ended pencil that has a deep-toned shade for lining and shadowing on one side, and a lighter, shimmery hue for highlighting on the other. The Line + Illuminate Pencil ($23) in Fiji is perfect for a smoky look, thanks to its dark olive and shimmering khaki tones. For a lighter look try Mustique, a rich brown and shimmering pink.