How to Remove Face Paint
How to Remove Super Bowl Makeup Without a Chisel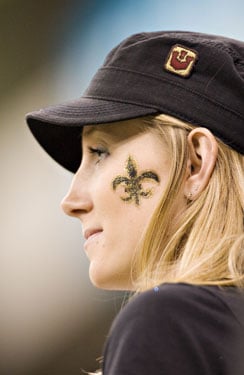 Last month, I asked you whether or not you paint your face at sports events. Most of you gave me a resounding no. But now that the mother of all sporting events, the Super Bowl, is going down this Sunday, perhaps you'll be channeling your inner artist. With a matchup between the New Orleans Saints and Indianapolis Colts, your choices are the following: black, gold, and white shades for the Saints, with a fleur-de-lis logo; or blue and white for the Colts, with a horseshoe logo. Whatever palette or symbol you might choose to craft up, you don't have to scrub your face raw to remove your lovely artwork. Get my tips for taking off face paint and decals, just keep reading.
For decals:
Simply remove these temporary tattoo-like adhesives by lightly scrubbing the area with a paper towel dunked in rubbing alcohol. Then, wash your face as you normally would. For super-stubborn remnants, try a rich cream or baby oil to loosen up any sticky residue.
For face paint:
For those heavy-duty paint jobs, cold cream will do the trick. Just apply to the face, let it sit for a few minutes, and wipe away. Baby oil and baby wipes are also great options for breaking up leftover pigments. Happy painting, and . . . go team!