How to Smooth Rough Feet
Beauty Refresher: How to Smooth Rough Soles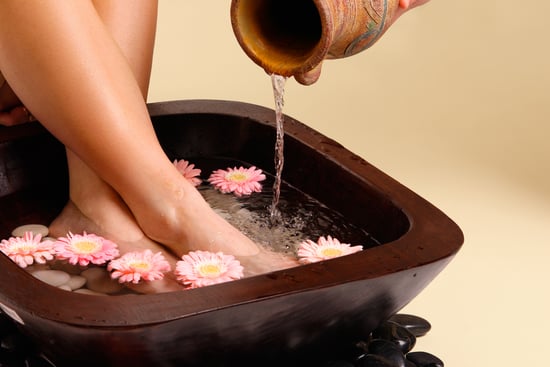 As Summer comes to a close, it's time to give your feet some end-of-sandal-season love and care. So before you bust out those boots and wool socks, follow these simple steps to say sayonara to cracked, aching feet for good.
Pull Off Flawless Feet
The skin on your soles is thicker than the rest of your body due to heavy use (it has to stand up to your heel-wearing and foot-stomping ways, after all). That's why you'll want to soak your feet in a warm bath for at least five minutes to soften them thoroughly. You can even add an oil or milk to your soaking tub to increase the softness. In addition, an antiseptic essential oil (like tea tree or peppermint) can help to combat minor infections.
Next, scrub the feet with a grainy exfoliator, such as a DIY mix of honey, olive oil, and coarse salt (or brown sugar).
Rinse the feet and follow by using a wet pumice stone to smooth over rough heels and calluses. Don't apply too much pressure, though. It will take time to get rid of chapped patches completely.
If there are extra rough spots, try spot treating with salicylic or citric acid (lemon juice also works well as a DIY remedy).
To finish, slather feet with foot cream, like Bliss Foot Patrol ($18), and put on socks to seal in moisture. Repeat the entire process weekly to maintain.