How to Stop Teeth-Whitening Pain
Give Teeth-Whitening Pain a Kick in the, Uh, Teeth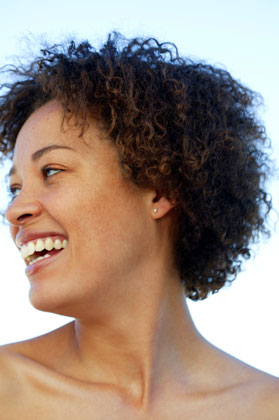 There are many advantages to teeth whitening, the obvious being a brighter smile. But one of the biggest disadvantages to this bleaching procedure is the pain often associated with it. "The sensitivity usually happens if you leave the gel on for too long, so it can become an irritant," explains Dr. Arthur Glosman, a Beverly Hills general and cosmetic dentist.
But the main reason many people experience discomfort from teeth whitening has to do with the fact that hydrogen peroxide, the agent that helps remove stains and discolorations from teeth, has a low pH, which can cause discomfort.
At the dentist's office, a fluoride layer is used to help bring the acidity level up and therefore neutralize the H202. But for you at-homers, Dr. Glosman recommends staving off the pain by brushing with a desensitizing toothpaste prebleaching, repeating the step postbleaching as well.
And rest assured, if you're worried that whitening your choppers is damaging, Dr. Glosman clarifies, "There is no information as of right now, over the past 20 years, that it permanently damages enamel or dentin or the nerve."