How to Style a Braided Bun Like Ziyi Zhang's
Get Ziyi Zhang's Easy, Chic Braided Bun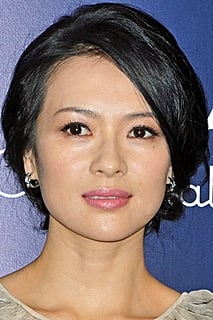 Almost every time Ziyi Zhang appears at an event, she looks like a latter-day incarnation of Audrey Hepburn. Take today in Tokyo, for instance. Ziyi showed up at an Omega watch launch wearing one of the most elegant daytime hairstyles possible, with understated makeup and enormous (though simple) diamond studs to match. OK, so we might not be able to afford her jewelry, but her hairstyle is eminently doable.


To find out how to re-create the style, just keep reading.
Begin on wet hair by working volumizing mousse throughout. Blow-dry with a paddle brush, focusing on lifting the roots for extra volume. Afterward if your hair is wavy or curly, straighten with a flat iron.
Use a comb or bobby pin to create a soft zigzag part centered over your right eyebrow arch.
Gather your hair right above the nape of your neck, letting it cover your ears, and plait it into a loose braid.
Using bobby pins, secure the braid into a circular wreath shape on the back of your head, and pin the ends under in the center of the wreath.
Finish with hairspray.