How to Style and Take Care of Platinum Hair
6 Ways to Beautifully Silky Platinum Hair Like Christina Aguilera's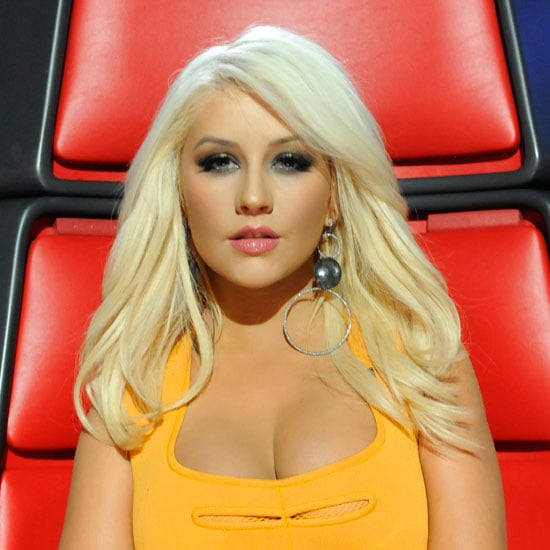 There's nothing subtle about platinum hair à la Christina Aguilera. But on last night's The Voice, the singer debuted a more toned-down version of bold blond than what we're used to seeing her wear. "I loved the color and silhouette of Christina's Roland Mouret dress so much," says celebrity hairstylist Mark Townsend, who created the subtly waved look. "It was such a great fashion moment with a touch of sexiness, so I wanted her hair to have the same feeling," he adds.
There are a few key things to keep in mind before hitting the peroxide bottle, however. "Very light and platinum hair does require more attention and care than darker hair does," Townsend explains. To see his advice for getting flaxen strands as touchably soft as Christina's, along with steps for getting her exact style, just keep reading.
Achieving it: "Going platinum is a serious commitment that requires lots of care and even more upkeep; roots can show up in just a couple of weeks," Townsend cautions. So if you're thinking about lightening up as a

DIY

project, think again. "It isn't something I would recommend for women to try at home. Getting the color just right is both an art and a science, so I like to leave it to the experts," he tells us.
Protecting it: Before applying any kind of heat to the hair, a thermal protectant is essential. Townsend also recommends turning down the temperature settings on your curling and flat irons. "Most women think that cranking up the heat will speed up the process, but really they should take smaller sections of hair and use less heat," he says.
Conditioning it: "Conditioners and regular treatments are a must for platinum blond hair," says Townsend. Try Dove Nourishing Oil Care Daily Treatment Conditioner after shampooing and once or twice a week as a 10-minute high-intensity treatment.
Pampering it: Townsend encourages ultrablondes to sleep on satin or silk pillowcases and to dry the hair with absorbent shammies, both of which are gentler on lightened strands. "Cotton can cause friction when you are sleeping or drying hair after a shower, and that can lead to breakage. A 'towel turban' after the shower is basically a mortal sin for women with platinum blond hair," he warns.
Product-ing it: "Platinum hair should be shiny and reflect light, so be careful of buildup because it will make the hair look dull and lifeless," Townsend explains. Also be sure to avoid using products with too many coloring ingredients, as they can stain light strands.
Copying it: To get Christina's The Voice coiffure, spritz Sally Hershberger Super Keratin Spray on damp hair. After blowing it dry with a large round brush, apply Dove Style+Care Flexible Hold Hair Spray in four-inch sections. Finish by curling the hair with a two-inch iron, and rake Malin+Goetz Hair Pomade throughout for texture and separation.
Photo: Lewis Jacobs/NBC