How to Treat Dry Scalp
How to Give Yourself a Scalp Treatment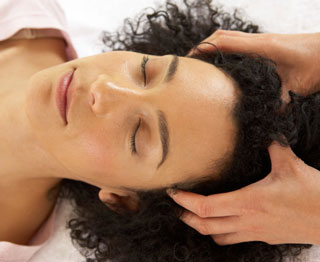 Scalp treatments are so underrated. In many other countries, they're a routine part of haircare regimens, but here in the US, they just haven't caught on — yet. Shiny hair begins from the roots, which means it's important to hydrate your scalp, too. Taking care of your scalp is inexpensive and easy, so to get a few tips on getting your head back to a good place, just keep reading.
You don't need super fancy hair oils (though they are nice) to treat your scalp. Olive oil is extremely moisturizing and gentle, as are amla and coconut. Plus, they're natural and you won't have any guilt about what you're washing down your drain and into the water supply.
Don't skimp when you're pouring on the oil. You're going to wash it off, but if you don't get your scalp saturated enough, you won't get the full benefits. Use three tablespoons or so to really get the job done.
Give your head a really thorough, gentle massage. For your skin to absorb the oil best, you need to work it into your scalp. Plus, massage is a great way to get your scalp circulation up and release tension.
Use heat to open your scalp's pores and hair shafts. Putting a warm, damp towel around your head or putting a shower cap on to help your head retain heat are easy, quick ways to do it at home.
Leave your oil on for as long as you like (some people keep it on all night), but 15 minutes is sufficient to get good benefits out of it. Shampoo once or twice afterward, and shine on.