How to Use Aloe Vera For Sunburn 2010-06-29 13:00:52
3 Things You Need to Know Before Using Aloe on That Sunburn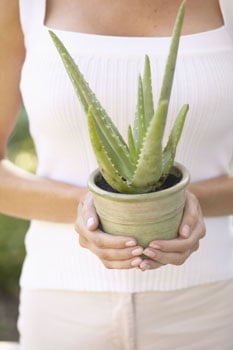 Even the most careful of us get sunburns, but there are still a few areas that are often missed here and there. One of the most widely used methods to take the sting out of a bright red burn is aloe. Known as the burn plant, the medicine plant, and even the plant of immortality, aloe cools while fighting inflammation and bacteria. And if that wasn't enough, aloe also softens and moisturizes the skin, preventing peeling and scarring. Whew! But before you reach for the green stuff, there are a few things you need to know. Find out more when you keep reading.


If you're using aloe products: Don't choose a product just because it has aloe on the label. Banana Boat's aloe gel, for instance, has more water and alcohol than aloe. Instead, read the ingredient list. Be sure that aloe is listed as the only ingredient, or as close to 100 percent as possible. Try Aubrey Organics Pure Aloe Vera Gel ($9) or Lily of the Desert Aloe Vera Gel ($3). And don't forget to check the expiration date, as fresher aloe is best.
If you're getting your aloe directly from the plant: Even if you don't have a green thumb, aloe's resiliency makes it an easy plant to grow. It doesn't need much water and requires indirect light. Simply cut a leaf off of the plant and slice open. You can leave the peel on the skin directly or rub the juice right in, as aloe absorbs into the skin about four times faster than water. Refrigerate a few leaves before using to enhance the plant's cooling features.
Things to avoid: Oil-based products, which can seal in the heat that comes along with a burn. Also avoid alcohol-based products, which can sting and dry already-tender skin.