How to Use a Green Concealer to Correct
It's Easy Being Green (If You're Talking Concealer)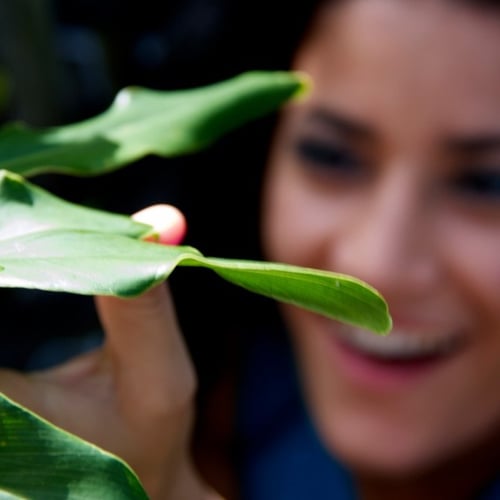 Ever been confused by the multicolored concealer palettes you see at the stores? The confusion stops here. Over the next few days, let's explore the art of these color-correcting concealers, starting with green. Wicked Witch of the West? Don't think so, my pretties. When it comes to color correcting, it's all about using the color wheel to figure out a balance.
Green, for instance, is opposite of red on the color wheel. In theory, it will neutralize any unwanted red hues from things like acne, rosacea, birthmarks, port-wine stains, ruddiness, pimples, and even scars. But do green correcting sticks, powders, and primers work? When it comes down to it, yes, but to find out a few ways to avoid looking as if you've been hit with a bad case of food poisoning, just read more.
Less is more: The worst thing you can do is give yourself a green cast overall, so apply the neutralizing green pigment only where needed. Start by using the tiniest amount of product — you'll be surprised how little you'll probably need — and blend well, layering a skin-toned concealer or foundation over it to avoid splotchy results.
Color match: Color intensity and tone play an important part in what shade of green you'll want to use. Some people look better with light-toned icy mint greens, while others benefit from a deeper, richer shade. If you can't seem to get the right match, customize your green by first diluting the pigments with a concealer. You'll know you've reached mixing perfection when it seamlessly blends right into your skin, fading away any redness you might have. Tip: if you do happen to go overboard with the green, use a yellow-tinged powder on top to tone it down a bit.
Think again: Ask yourself this, "Do I really need color correction?" Chances are, it's unlikely. Unless you're truly rosy-toned or have a condition that makes the red really stand out, a green color corrector is probably not needed. After all, you want as much of your natural skin to shine through.
Some options: Maybelline Corrector in Green ($5), Smashbox Color Correcting Foundation Primer in Green ($38), or L'Oréal Color Correcting Primer in Green ($13).
Source: Flickr User maria alejandra